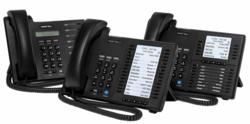 Improved usability was our goal in choosing the features that went into this release.
Irving, TX (PRWEB) November 07, 2011
ICON Voice Networks, LLC has announced the release of version 9.0 software for the Iwatsu Enterprise-CS (ECS) communications platform. The new software enhances the IP-PBX's automatic call distribution (ACD) function, hunt group accessibility, off-premise transfer capabilities and other feature enhancements.
The ECS Version 9.0 software release improves access the communications system and call distribution. One such improvement is one touch transfer of an incoming call to an ACD group reducing the load on attendants who direct incoming callers to the appropriate destination. A new hunt group login/logout feature allows phone users to log in and out of hunt groups based on their availability, ensuring that incoming calls do not ring at unmanned extensions. Previously, login/logout was only available as an add-on option for ACD agents.
"ECS 9.0 has some great new features such as one touch transfer to ACD and hunt group login/logout that were developed based on direct customer requests," said Michael Marchioni, ICON Voice Network's VP of product management and marketing. "Improved usability was our goal in choosing the features that went into this release. We can't wait to hear the reaction from our dealers and customers that rely on ECS to conduct their business."
Other features included in ECS software version 9.0: Iwatsu IP Phone Music on Hold (MOH) selection can be individually programmed to play MOH or silence. ICON Phone Screen Revert provides the ability to have the ICON 5810, 5910, 5930, 59DS phone to revert the LCD screen page 1 following either ringing or a timer expiration. Individual UCD Overflow Timer allows a unique overflow timer to be programmed for each group. Iwatsu ICON 5810, 5910 and 5930 phones now have a submenu option to delete a personal speed dial bin name and number with a single key press. Iwatsu digital and IP telephones can transfer a call to a speed dial number by pressing transfer plus the speed dial key.
About ICON Voice Networks: ICON Voice Networks is a distribution and development company specializing in communications technologies. Our product lines include IP phone systems, unified communications, data networking products, call center solutions and video applications. In addition to development, ICON Voice Networks is a master distributor for multiple IP-PBX and unified communications product lines providing sales support, technical support and custom application development.
###