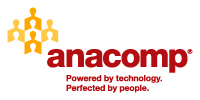 "The opening of our Document Services Center in Somerset, Kentucky, is a strategic expansion to meet the growing demand with our government customers
Chantilly, VA (PRWEB) November 04, 2011
Founded in 1968, Anacomp provides enterprise information and document services where quality, accuracy and security of the information are vital to mission success for their customers. Many of the company's projects support claims processing, benefits delivery, human capital management, and secure records management for the federal government.
"The opening of our Document Services Center in Somerset, Kentucky, is a strategic expansion to meet the growing demand with our government customers. The additional capacity will allow us to extend our core competencies in document and business process management, enterprise capture, conversion and archiving to create significant value for a broader base of federal clients," said Thomas Cunningham, Anacomp's Chief Executive Officer.
"Our selection of Somerset, Kentucky as the location for our expansion was based on the availability of a skilled workforce, favorable business incentive programs and the technology infrastructure at the Enterprise Center, " Cunningham continued. "We look forward to becoming a major local employer and business partner in the region."
About Anacomp, Inc.
Anacomp provides document and business process management solutions that help organizations unlock the maximum value from their business processes and information, at the lowest total cost. Anacomp, Inc. has operations in Chantilly, VA and San Diego, CA.
Additonal information about Anacomp's products and services can be found at
http://www.anacomp.com
Job applicants are encouraged to contact the Cumberland Workforce Network http://www.lcadd.com/cumberlandsworkforce/
###