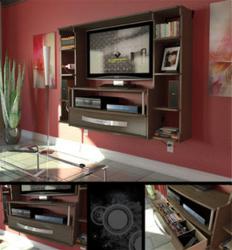 Our designs mount to the wall and provide a total solution for the TV and all the necessary A/V and gaming equipment, media, and accessories.
Lewisville, TX (PRWEB) November 07, 2011
Lewisville-based Universal Display and Fixtures today announced its launch of its media and gaming furniture product line Off The Wall Concepts.
"Off the Wall Concepts is a product line that was born from the need to partner AV and gaming equipment with flat panel TV's" says Joe Battaglia, creator of Off The Wall Concepts. He continued, "Flat panel TV's are so cool, they mount to the wall and take up very little space. But what do you do with the cable box, satellite receiver, DVD player, Xbox360, PS3, Wii, or Surround Sound System? Most people use the same piece of furniture that was used in the 1940's with black and white TVs. Off The Wall Concepts allows you to set your flat screen TV on our TV shelf and save the cost of a wall mount." If your TV is already wall mounted that's not a problem, Off The Wall Concepts will install around it."
Off The Wall Concepts offers 10 distinct designs, falling into two categories one for Gaming and one for Media. The gaming units are available in five designs; three that are available in black and the other two in black or White. The media units are also offered in five designs and two finish options Zambukka and Xanadu. Both product lines have silver metal accents, with built in cord management to centralize and hide the cords associated with AV and gaming equipment, and with or without storage. Easy of assembly is another benefit. Once the carrier rail is installed, there is a template provided, the remaining components go together without tools or fasteners.
Off The Wall Concepts designer, Tony Rodriguez, says "you have to see it to believe it; our units make your space feel bigger because they are not on the floor and they help keep your space clean and better organized". New products are being developed and will be added in the near future.
Off The Wall Concepts new line of flat panel TV furniture for the home is handcrafted in the U.S. and shipped directly from their facility in Lewisville, Texas. The furniture is designed and manufactured by Universal Display & Fixtures, a North Texas company that has been designing and manufacturing high-quality products for 50 years.
About offthewallconcepts.com
Off The Wall Concepts is a branded product line of Universal Display & Fixtures Company. (UDFC) located in Lewisville, TX. All components are made in the USA. UDFC is a privately owned, certified MBE.
To view the entire line go to http://www.offthewallconcepts.com.
###