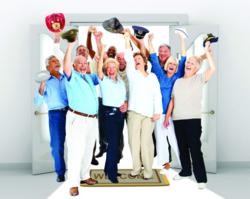 "My wife and I have enjoyed the services here for many years – from lavish celebrations of holiday events, to the state-of-the-art fitness center and the daily contact with remarkable people."
–AFVW Resident
Riverside, CA (PRWEB) November 10, 2011
Until recently, only retired or honorably discharged military officers and high-ranking government officials were eligible to reside at AFVW, formerly Air Force Village West.
With its new expanded eligibility, the community is now open to all retired or honorably discharged military regardless of service branch, rank or grade, all former government employees and those who have served their communities - including police officers, firefighters and politicians - along with their spouses and surviving spouses.
AFVW offers an active, maintenance-free lifestyle on 221 acres of the former March Air Force Base. It is conveniently located near golf courses, the March Air Reserve Base exchange and commissary, airports, mountain resorts, beaches and casinos.
Housing choices include single-family homes, duplexes and apartments with 15 different floor plans ranging from 644 to 3,300 square feet.
The secure-gated, pet-friendly community offers:

Flexible dining options in its club-style dining room or Village Café with indoor and outdoor terraces
Weekly housekeeping
Indoor/outdoor swimming pool
Fully-equipped Fitness Center with a personal trainer
Miles of hiking and biking trails
Transportation to doctor appointments, shopping centers and airports
An on-site health care facility that offers in-home care, assisted living, skilled nursing and a special memory care area
Residents can select from a broad range of daily tours, events and activities; travel without worrying about their home; or schedule their days doing exactly what fulfills them the most.
AFVW offers a retirement lifestyle where residents can live among like-minded individuals with shared experiences and values.
Complimentary overnight stays including home tours, meals prepared by AFVW's award-winning chefs and guest house accommodations are available.
For further information or to arrange for a tour or overnight stay call toll-free (800) 729-2999.
###