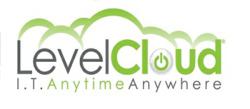 We offer a proven solution for MSPs to resell without any huge investment or complex management
Corona, CA (PRWEB) November 04, 2011
Tuesday, November 8th, HTG will be holding a peer conference in Orlando with members arriving from all over the globe. LevelCloud will be exhibiting and providing demo's to attendees who are interested in taking their MSP business to the next level and grow their business in the hosted network space. LevelCloud has partnered with OS33, a leading Cloud management software firm. "OS33 has enabled us to scale at the rate we had hoped for and deliver the LevelCloud solution to our clients in the most efficient manner", said LevelCloud CEO Biren Shukla.
OS33 will be exhibiting at the ConnectWise IT Nation event in Orlando November 9-11th. They have invited Biren to speak in their breakout session to share with other MSPs and VARs how he has transformed into a Cloud Service Provider. "The tremendous response to the LevelCloud Partner Program illustrates the massive shift in the industry towards integrated cloud-based IT services," said Jacob Kazakevich, President of OS33. "We are very excited to see LevelCloud showcase OS33 technology to the HTG community."
LevelCloud recently announced a partner program to help other MSP's and VAR's throughout the country become a Cloud Service Provider. "We have found that many MSPs do not have the resources or funds to build and manage a Cloud solution from scratch, however they are feeling the market pressure and need a solution to leverage", mentioned Adrian Francoz, LevelCloud Business Development Director. "We offer a proven solution for MSPs to resell without any huge investment or complex management. Our engineering team is here to support our partner's success, and our partners can scale their business without having to worry about the complexities and overhead", added Adrian.
For many IT business owners who can not afford to build out their own infrastructure and do not want to manage a complex grid environment, the LevelCloud partner program looks to be a promising opportunity for many MSPs. LevelCloud's goal is not to have hundreds of partners, but rather to focus on select partners in geographic regions that can generate success within their markets.
LEVELCLOUD
LevelCloud provides small/medium businesses with a turnkey cloud computing solution that replaces the traditional onsite network. The entire business network (e-mail,apps,data) are delivered through a centralized platform powered by dedicated resources in state of the art datacenters. LevelCloud enables organizations to free themselves from the traditional constraints of IT, and empower their staff to work anytime, anywhere, on any device through a collaborative platform.
###