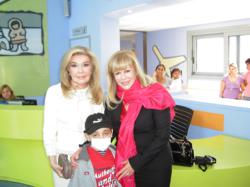 (PRWEB) November 04, 2011
Renowned children's rights activist Daphna Edwards Ziman undertook her first novel in order to reveal the horrific extent of the organized prostitution of minors, particularly of foster children, in the United States. Her critically acclaimed novel, "The Gray Zone," appeared on the New York Times and USA Today Best Seller lists and assisted the address of the issue by her organization, Children Uniting Nations. But most surprising and pleasing to Ziman is the fact that it has indeed united other nations dealing with the same vicious crime. Ziman has since been honored with a major governmental medal by the nation of Azerbaijan, was hailed by Georgian President Mikheil Saakashvili for bringing worldwide attention to the global crisis of sex-trafficking and awarded for her work with an Honorary Doctorate in Literature by the University of Georgia. Ziman had also made a stop in Greece as a guest of renowned UNESCO advocate Marianna Vardinoyannis, her nation's most notable activist against the sexual abuse of children.
During her succession of honors, Ms. Ziman initiated plans with the leaders of the three nations to arrange a global conference on sex-trafficking. The author/activist will be making a trip to Egypt before the end of the year where she will be saluted in a special ceremony installing "The Gray Zone" in the world's oldest library in Alexandria.
"Of all the accomplishments and honors this book has afforded me is its resulting acknowledgement that the criminal sexual sale of our most at-risk children is an insidious catastrophe flourishing in a wide variety of countries. Children Uniting Nations is cooperating with authorities in the United States to obtain indictments against the criminals who practice sexual enslavement of minors, pandering them to pedophilic perverts, very often people of great wealth and power," the best-selling author has stated.
"All people of conscience must unite in uncovering, punishing and stopping this inhuman practice, this theft and perversion of childhood of hundreds of thousands of children throughout the world."
As Founder of the Los Angeles-based Children Uniting Nations, Ms. Ziman has paired thousands of foster and at-risk youth with mentors. She was also responsible for obtaining federal legislation permitting college students to work off their school loans by acting as academic mentors to foster children.
Press Contact:
Dick Guttman
guttmanpr(at)aol(dot)com
###