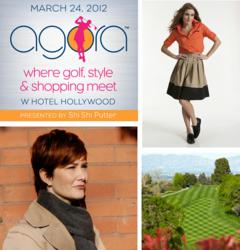 Los Angeles, CA (PRWEB) November 08, 2011
When you think of golf clothes, you don't usually think of fashion, but that's about to change now that Fashion Stylist and CEO and Founder of Shi Shi Putter™, Elizabeth Noblitt, is on the scene. She is on a mission to bring more modern, fashionable women's golf clothing and designers to the forefront, while spreading the message of golf's ability to empower women. During Women's History Month, Noblitt is holding AGORA, the first of its kind public fashion and trunk show for women golfers. She will bring together the designers of the new, fashionable women's golf apparel with women golfers, celebrities, stylists and fashion media. More than just a runway show, this event includes shopping and other activities. AGORA takes place at 1:00 p.m. on Saturday, March 24, 2012 at the W Hollywood, located at 6250 Hollywood Boulevard, Hollywood, Calif.
AGORA will bring together this community of women golfers, where they can connect with designers, mingle with friends and see the latest fashion trends in the women's golf apparel. The featured designers manufacture their clothing primarily in the U.S. and understand the fashion desires of today's women. "I named the event AGORA because after the ancient Greek marketplace where Athenians would shop, meet and learn. It was a core process in their culture, and their success. I want to bring that to women golfers," says Noblitt, who authors articles for Golf Today NW and was recently accepted into Fashion Group International.
Noblitt founded Shi Shi Putter when she recognized the lack of stylish, functional golf clothes for women. "As someone who's always been interested in style, I was surprised by the lack of fashionable choices for women golfers," says Noblitt, "So, I decided to do something about it." She aligned herself with some of the best emerging designers in the women's golf apparel industry and created Shi Shi Putter, a company with an online store, an information-packed blog and live events like AGORA.
Noblitt's philosophy is that women who golf for business need to express their style, both on and off the golf course. The limited selection of golf apparel for women has a negative impact on their professional image. By providing a greater array of clothing options to choose from, women can exude their true selves no matter where they are. She hopes to revolutionize the game of golf to make it more welcoming for women who enjoy the sport and want to maintain their sense of style.
Tickets to AGORA are $249 and include cocktails and appetizers, a fashion show, swag bags and a chance to shop the latest styles in golf attire.
Noblitt will donate a portion of proceeds to the EWGA Foundation, whose mission is to create and fund education and leadership programs for women of all ages. Specifically, proceeds will be donated to The Women on Par scholarship, providing financial aid for women over 30 who are pursuing undergraduate degrees, a demographic usually forgotten in financial aid programs. To keep the spirit of Women's History Month and to continue empowering women, attendees are encouraged to bring accessories to donate to Dress for Success, a non-profit organization whose mission is to promote the economic independence of disadvantaged women by providing professional attire and accessories, a network of support and the career development tools to help women thrive in work and in life.
For more information about Elizabeth Noblitt and her company, Shi Shi Putter, visit http://www.shishiputter.com/agora
Media contact: Lisa Elia Phone: 310-479-0216 e-mail: lisa(at)lisaeliapr(dot)com
###