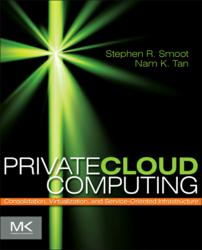 Waltham, MA (PRWEB) November 03, 2011
Stephen Smoot, author of the newly released Private Cloud Computing, will discuss his book at a public event on November 4th.
Date: Friday Nov 4, 2011
Time: 1 pm. PST
Location: Riverbed Technology
199 Fremont St, San Francisco CA 94105
5th Floor (Enter through reception on 7th)
Smoot, Senior Vice President of Technology at Riverbed Technologies, is co-author, with Nam K. Tam, Lead Network Architect at Riverbed, of Private Cloud Computing: Consolidation, Virtualization, and Service-Oriented Infrastructure. In the book, these expert authors distill their years of networking experience to describe how to build enterprise networks to create a private cloud. With their techniques you'll create cost-saving designs and increase the flexibility of your enterprise, while maintaining the security and control of an internal network. Private Cloud Computing offers a complete cloud architecture for enterprise networking by synthesizing WAN optimization, next-generation data centers, and virtualization in a network-friendly way, tying them together into a complete solution that can be progressively migrated to as time and resources permit.
To RSVP for the event contact:
Kristalle Ward
Kward(at)riverbed(dot)com
650-346-7810
Provide name and company name.
# # #