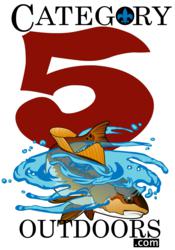 While some make fishing lures to catch Fishermen, we created and field tested our fishing lures to catch Fish. And if you catch fish, you'll eventually catch the Fishermen.
New Orleans, LA (PRWEB) November 04, 2011
The company, started by two fishing buddies after Hurricane Katrina, is supplying every contestant in the 2011 IFA Cabela's Redfish Tour Championship with its signature pack of lures. The lures will be given out in the registration booth.
When asked about the company contributions to the event, Richie Bulot, owner of Category5Outdoors.com, says, "It's a way for us to give back to our community. I've lived here all my life and have seen the problems we've faced. Louisiana has been through so many disasters, yet the people have been keeping our company alive. The fishing industry was really struck by the BP Oil Spill, and this competition brings some spirit back into the community and Louisiana. I wanted to be a contributor to show that we'll be here—somehow we've survived Katrina, the recession, and the BP oil spill. It's a miracle."
Category5Outdoors.com began after Bulot began helping local communities get back on their feet after Hurricane Katrina with a website that offered companies an online presence. The website had so many aspects to it that it prompted Bulot to create Category5Outdoors.com.
In the creation of the company, Bulot propositioned one of his talented charter fishing friends, Capt. Kenny Kreeger, the current Louisiana state record holder for the second largest speckled trout ever landed in Louisiana waters. Together, Bulot and Kreeger designed lures and other outdoor products for Category5Outdoors.com. After offering to prototype, produce and distribute any lure designed by Kreeger during the summer of 2009, Kreeger agreed and delivered his unique lure, the "Shrimp Minnow," along with his son's "Split Tail Shrimp."
Bulot and Kreeger received their first prototypes near the end of October 2009 and they showed such great results that they dove in head first, purchasing several cases of each lure, even before securing their first retail location to sell them in. Just as the three new Category 5 designs arrived in mid-April of 2010 ready for distribution, word of the BP Oil Explosion was delivered to Bulot by a close friend.
Bulot and Kreeger chose to hold their new baits back until they could truly understand how the oil spill would affect their beloved coastal marshes of Louisiana and Mississippi. Ultimately, the devastation was such that it nearly destroyed the livelihoods of many of their friends and family members in the fishing, crabbing, shrimping and oyster harvesting fisheries industry, as well as nearly wiping out Bulot's "Islenos" family heritage with it. They immediately began doing fundraisers for the United Commercial Fishermen, located in St. Bernard and serving greater N.O. Fishermen, as well as reaching out to the Plaquemines Parish oystermen and other fishing related businesses. They also created a Facebook Page "SAVE OUR GULF COAST FISHING HERITAGE" to guard against any misinformation or propaganda being put out about the spill. To learn more about the company's history and its achievements, visit the Slidell Independent: http://slidell-independent.com/news/the-little-hometown-business-that-could%E2%80%A6/.
Bulot has been supporting the fishing industries in Louisiana and Mississippi all his life, and his dedication to restoring the Gulf Coast is seen in his contributions to the 2011 IFA Cabela's Redfish Tour Championship. Category5Outdoors.com has survived major environmental disasters and recessions, but Bulot claims, "the lures sell themselves!"
To learn more about Category5Outdoors.com, visit: http://www.category5outdoors.com/merchants/category-5-outdoors/landing-page
###