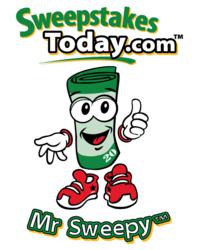 (PRWEB) November 08, 2011
Lisa Mathews of Centereach, New York, has been entering sweepstakes at SweepstakesToday.com (http://www.sweepstakestoday.com) since the fall of 2006 but this October she won three different contests.
"I won a Samsung Galaxy 10.1 Tablet mobile computer, a $50 gift card for Best Buy and a Swiffer Sweeper Cordless Vacuum," she explained. "All in the month of October!"
A member of the Sweepstakes Today's prestigious 10K Club since 2007, she said of her winning current rush of prizes, "(It's) very exciting. The site is absolutely the best and all the 'sweepers' feel Mr. Sweepy is the best."
Mathews' biggest single prize was $36,500 which she got in cash in lieu of a Toyota Highlander Hybrid.
Asked what she does with her winning, she said "I keep most of it; I've shared with other and gave some to my son. Now we're sharing the tablet computer," the single mom said.
When she was asked in an interview if considered herself addicted to sweeps, Mathews emphatically said, "no! I call myself an eager entrant or enthusiast. I love seeing what's new (in sweeps) and waiting for the surprise," she added. She guesses that over time she's won well over $40,000 worth of prizes and cash.
Founded by Craig McDaniel, aka "Mr Sweepy," Sweepstakes Today LLC went live online in March of 2004. The popular site is based in Tulsa, Oklahoma and the custom programming development is done in Salt Lake City, Utah.
###