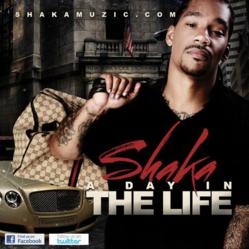 Miami, FL (PRWEB) November 04, 2011
Rap artist Shaka recently released his mixtape "A Day In The Life." Coast 2 Coast Mixtapes presents the project, which is available for free download. "A Day In The Life" features Shaka on tracks such as "So Visible," "Money Is The Motivation," and "Fly Boyz," among others.
Hailing from Paterson, NJ is a newcomer to the rap game, who goes by the name Shaka. Rapping since the age of 12 when he realized that music could be powerful and profoundly affect many people, Shaka is now ready to share with the world his vision of what "real rap" should be. He has worked with a number of DJs and other independent artists throughout his career, including those featured on "A Day In The Life."
He is now working on ideas for his next project, to be titled "Perception." The idea is that people have a certain perception of what the music business is. Not that Shaka will be exposing anyone, but he'd like to make people aware that things aren't always what they seem. The album will give listeners what he feels music has been missing—substance, life, and meaning. He won't be giving a bunch of bubblegum rap or fictional accounts, but rather real stories from his life. Living by his motto, "There are no failed hustles, we just go through a process of elimination to find the right one," Shaka is sure to make it to the top by any means necessary.
"A Day In The Life" is available for free streaming and download at http://coast2coastmixtapes.com/mixtapes/mixtapedetail.aspx/shaka-a-day-in-the-life
###