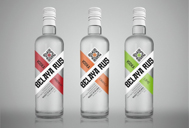 Great vodka should also be affordable. High quality and high QPR. No more compromising. Americans deserve both! That's what Belaya Rus and the Great Vodka Revolt are all about.
Madison, WI (PRWEB) November 08, 2011
Attention Midwesterners: The local economy's about to go "bottoms up," with a Happy New Year and many "happy hours" to follow in 2012. Thanks to importer Gvardia LLC, the Belarusians are coming, armed with weapons of mass distillation. The Great Vodka Revolt of 2012 (GVR) will officially begin December 31, 2011, bringing Belaya Rus Vodka and much-needed QPR (Quality-to-Price Ratio) relief to residents of Wisconsin, Minnesota and Illinois.
Follow the GRV and "Jolt The Economy" countdown at http://www.jolttheeconomy.com
Premium beverage distributor Gvardia LLC has announced plans to infuse the local U.S. economy with a shot of premium vodka at populist prices. Through an exclusive alliance with Belarus-based Minsk Kristall Distillery, Gvardia is breaking out the good stuff (award-winning; better tasting than many other top shelf brands, high QPR) and bringing it stateside to supply the upcoming Great Vodka Revolt. Belaya Rus Vodka will be available throughout Wisconsin as of 8:00 a.m. December 31, 2011; in Minnesota and Illinois in early 2012.
"When times are tough, (and in Belarus they always are), drinking well is the best revenge. Great vodka is expected. It's also very affordable," explained Victor Agapov, Wisconsin-based beverage distributor and Belaya Rus Vodka exclusive importer. "Belarusians enjoy the highest QPR in the world."
According to Agapov, the rationale for sharing their prized Belaya Rus with America is as clear as the premium vodka itself. Midwesterners are among the hardest-drinking people on earth. Yet they're still plagued by low QPR. "Belarusians stand in solidarity with their thirsty/thrifty American comrades. It's time to rise up and take matters into their own hands -- preferably in a chilled glass, shaken or stirred in a cocktail, or neat, on the rocks. Let the Great Vodka Revolt begin!"
Belaya Rus Vodka (80 proof) is a premium Belarusian vodka crafted from the finest winter grains using pure artesian water drawn from wells 1,000 ft. deep. It is distilled six times using a patented process and filtered using black flint or "Cremia," a mineral found only in Belarus.
Belaya Rus Vodka earned a Silver Medal and "Best Buy" Award with an impressive "Highly Recommended" rating (89 points) at the prestigious 2011 Beverage Testing Institute's International Review of Spirits Competition in November of 2011.
Minsk Kristall, the largest producer of alcoholic beverages in the Republic of Belarus, was founded in 1893.
Gvardia LLC is a diversified import company with headquarters in Madison, Wisconsin.
For more information visit Belaya Rus Vodka Facebook page and http://www.belayarusvodka.com
For more information on the Great Vodka Revolt of 2012 visit http://www.jolttheeconomy.com
Contact Information:
Gvardia LLC
(608) 520-0777
info(at)gvardiacompany(dot)com
# # #