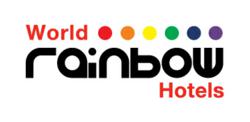 London, UK (PRWEB) November 07, 2011
Only carefully selected hotels are approved into the program based on World Rainbow Hotels' acceptance criteria, which analyzes:

Hotel's location
Hotel's characteristics and category
Hotel's knowledge of local gay-scene
Hotel's current involvement with the LGBT community
Hotel's compliance with non-discrimination policies and same sex benefits for their staff
Participating hotels are encouraged to undergo training as well as put together an Out & About guide, providing World Rainbow Hotel bookers with useful information about the local gay & lesbian scene.
Nicolas Wijnants, World Rainbow Hotel Brand Director says
"We believe that providing the right information and support to the hotel's Concierge and Front Desk Agents is crucial to increase the hotel's awareness in dealing with requests and situations that they might otherwise not be familiar with. LGBT clients will feel this natural confidence, and therefore feel more welcome at our member hotels."
Hotels belonging to over 175 hotel brands have already signed up to the World Rainbow Hotels program including:

Four Seasons Hotels & Resorts
Kempinski Hotels
Langham Hotels
Design Hotels
Loews
Taj Hotels, Resorts & Palaces
Fairmont Hotels
Raffles Hotels
The Peninsula Hotels
Thompson hotels
Morgans Hotels group
Kimpton Hotels
Langham Hotels
Joie de Vivre Hotels
Preferred Hotels & Resorts
Small Luxury Hotels of the World
The Ritz-Carlton Hotel Company
Rocco Forte Hotels
The Leading Hotels of the World
Hyatt Hotels & Resorts
Orient-Express Hotels
Hilton Hotels & Resorts
InterContinental Hotels Group
André Balazs Properties
Caesars Entertainment
A number of iconic hotels in the LGBT community have also joined the program including:

The Lords South Beach Hotel, Miami Beach
The Standard Spa, Miami Beach
The Elysium Hotel, Mykonos
The Mondrian Hotel, New York
St Martins Lane Hotel, London
The Hempel Hotel, London
The Redburry Hotel, Los Angeles
Thompson Beverly Hills Hotel, Los Angeles
The Andaz West Hollywood, Los Angeles
Rumor Boutique Hotel, Las Vegas
The Artisan Hotel, Las Vegas
Hotel Vitale, San Francisco
Hotel Adagio, San Francisco
St Paul Hotel, Montreal
Hotel Arena, Amsterdam
The Ellington Hotel, Berlin
Fifteen Bacon Hotel, Boston
The Gem Hotel Chelsea, New York
Smyth Hotel, New York
Hotel Bloom, Brussels
Hotel Me, Barcelona
Urban Hotel, Madrid
Le Royal Monceau, Paris
Le 20 Prieuré, Paris
Les Jardins du Marais, Paris
Hotel Sezz, Saint Tropez
Aguas de Ibiza, Ibiza
The Ames, Boston
Opus Hotel, Vancouver
Urbn Hotel, Shanghai
Protea Fire & Ice Hotel, Cape Town
Hotel 3.14, Cannes
Hotel Icon, Houston
The House Hotel, Istanbul
Leonardo Boutique Hotel, Tel Aviv
The Enterprise Hotel, Milan
Hotel Pulitzer, Rome
Mark Lewis, Managing Director of HotelREZ, who has launched the World Rainbow Hotels program, says
"This year's response has been phenomenal. Hotels participating understand the value of joining a global community of Gay & Lesbian welcoming hotels. We are able to provide hotel members with unprecedented visibility and access to the affluent LGBT market, positioning participating hotels at the heart of this sector."
World Rainbow Hotels has also recently partnered with Discover the World Marketing to grow its presence around the world. Discover the World has a network of 85 offices in more than 60 countries, staffed with travel industry professionals who understand their local markets.
Discover the World Marketing's global offices will work with World Rainbow Hotels to increase reservations to participating hotels by introducing World Rainbow Hotels to local niche travel agency partners and affiliates.
The World Rainbow Hotels RFP for the 2012 program is open in Lanyon and Nexus until November 16th 2011 and hotels interested in participating in should contact info(at)worldrainbowhotels(dot)com.
About World Rainbow Hotels
World Rainbow Hotels is the first ever company to introduce LGBT-specific rate codes on the GDS. World Rainbow Hotels is marketing its rate plans to over 60,000 Travel Agencies and corporate bookers around the world, as an easy way of identifying LGBT-friendly hotels.
Through media deals and strategic partnerships with niche websites, these rate plans will also be available for consumers to book online from December 2011.
World Rainbow Hotels will be present on stand GV203 at World Travel Market 7-10th November 2011, Excel, London.
For information about World Rainbow Hotels, please visit http://www.worldrainbowhotels.com call us on +44 (0)845 004 9393 – ext 6523.
World Rainbow Hotels is a proud member of the International Gay & Lesbian Travel Association (IGLTA).
###