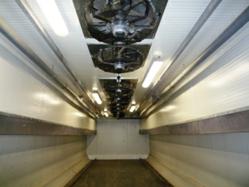 Postharvest Storage @ VolkerKleinhenz.com
Phnom Penh, Cambodia (PRWEB) November 05, 2011
Volker's homepage contains a section on his scientific publications. Within this section, his publications are currently available in HTML format but will soon also be made available in downloadable PDF format.
The paper on "Storage methods for extending shelf life of fresh, edible bamboo shoots (Bambusa oldhamii (Munro))" presents results of postharvest storage experiments with fresh bamboo shoots which were stored in the open or packaged in a range of materials at different temperatures to determine their shelf life under various storage conditions. Shelf life could be extended by primarily reducing storage temperature and secondarily packaging bamboo shoots. Under traditional storage at ambient temperature without packaging, high transpirational weight loss limited shelf life of bamboo shoots to 1 day. When water loss was reduced by enclosing shoots in low-density polyethylene (LDPE) film, shelf life was extended to 6 days. Under the latter conditions, respiration accounted for a larger percentage of total weight loss stressing the need to quickly cool bamboo shoots to 1-2°C after harvest. The most suitable packaging materials were thin, micro-perforated LDPE bags and non-perforated LDPE film. These materials reduced total weight loss of bamboo shoots, minimized condensation within packages and extended shelf life to and probably beyond 28 days.
The publication on "Cold storage to extend shelf-life and improve quality of Chinese waterchestnut" covers the effects of packaging and storage temperatures on shelf-life and quality of Chinese waterchestnut [Eleocharis dulcis (Burm. f.) Hensch]. Some quality parameters in Chinese waterchestnut are closely connected with postharvest storage. These parameters include weight loss, sprouting, growth of molds on the external peel, discoloration and development of rots in internal tissues, and changes in sugar content of corms. The formation of sugars from starch at low storage temperatures is particularly interesting since "sweetness" is appreciated in Chinese waterchestnut. The paper presents a "critical" temperature of 13.6°C below which sweetening and above which sprouting occurs. Since superficial fungal growth was accelerated at the higher storage temperature of 9°C but internal rots developed more rapidly at 1°C, the optimum storage temperature for Chinese waterchestnut is approximately 2-4°C. Packaging materials including low-density polyethylene (LDPE) film or microperforated LDPE film did not differ in their efficacy in reducing fresh weight loss in stored waterchestnuts over a five-month storage period.
Besides providing an overview of his scientific publications, his homepage includes Volker's updated Curriculum vitae which now includes his latest assignments as a referee for the premium international agricultural journal Scientia Horticulturae and the Journal of Agriculture and Rural Development in the Tropics and Subtropics (JARTS).
These details are also available at Volker's LinkedIn profile, his homepage at the Asian Institute of Technology (AIT) in Thailand and his Twitter account @VolkerKleinhenz.
###