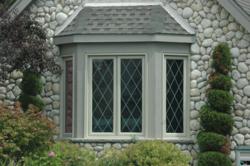 The days of moving into the McMansions are disappearing. - Rick Jones, President, Stanek Windows
Cleveland, OH (PRWEB) November 10, 2011
In continuing to study the current economic condition of the Unites States, Stanek Windows is seeing people staying in their current homes for a greater length of time than ever before. "The days of moving into the McMansions are disappearing," said Rick Jones, President, Stanek Windows. "The Boomer generation is not migrating at the levels of the past two decades and many are downsizing near children and universities instead of heading to the tropical south or the deserts of the west." Despite this fact, consumers are still looking for high-end products with a focus on efficient, smart, and the newest technology.
Stanek Windows realizes that this time of the year is a time when people are focused on their old, ugly windows and patio doors they have ignored. They are now looking to replace them with something better and more efficient. Most replacement windows or patio doors will provide some improved energy efficiency especially if they are more than 10 years old in new built homes. During the past 25-30 years, builders wanted less expensive windows and patio doors. In response, many manufacturers responded with lighter materials that have not lasted as long as homes built in the pre-80's era.
"Now is the time to research replacement products such as new maintenance-free wood grain materials, decorative hardware and finishes, the latest types of grids between the glass panels to give a new look, or even colors to match exterior and interior appearances," said Rick Jones, President of Stanek Windows. "However, when considering a purchase of new higher grades of windows and patio doors make sure you think more about appearance, design and color to enhance your home." With many more options today, window and patio door designs can totally change the appearance of a home. Companies have skilled installation and carpentry craftspeople that are a capable of many new modifications to old products and designs.
"Stanek Windows has emphasized design for years. We work with clients to explain options that they can choose from including interior wood grains, exterior colors, feature differences between double-hungs, casements, swing-in-sliders—all that open to allow natural ventilation when you want it," said Jones. "As members of the Window and Door Dealers Alliance, an organization where quality dealers share ideas about consumer preferences and good business practices, we know there are many fine companies willing to work with consumers. It is more about choices today than price and who sells the cheapest."
Before making a decision this fall, Stanek Windows recommends that consumers consult with experienced designer window and door companies to explore ideas that they are prepared to live with for the next 30 or more years. Many replacement window and door companies offer long-term warranties for the buyer. With all the options that are now available, homeowners can achieve the fresh, new look they have been dreaming about with the most efficient and superior products.
About Stanek Windows
Stanek Windows serves Western Florida, Northeast Ohio and South-Eastern Wisconsin with offices in Tampa/Clearwater, Florida, Cleveland, Ohio and Milwaukee, Wisconsin. The company offers a full line of energy-efficient windows, patio doors and exterior doors, as well as, siding, hurricane shutters and gutter systems. All Stanek Windows are independently tested and certified to area building codes, including impact windows for the strongest Florida hurricane-rated codes. For more information, contact Stanek Windows at 800-4-STANEK or visit StanekWindows.com.
###