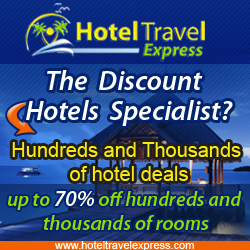 Enjoy the Art Basel Miami Beach Event with cheap hotels in Miami offered by HotelTravelExpress
Perth, Western Australia (PRWEB) November 05, 2011
The city of Miami, the magic city as she is often called, is no doubt a gem that is well respected amongst its peers as it is by far one of the most interesting and beautiful places on earth that anyone can ever be.
Year in and out, day after day and indeed moment to moment, this city plays host to a number of exciting events to the pleasure of all classes of tourists that could range from the fun seeker to the academic tourist. Honeymooners on romantic cruise are also not left out in the daily exploration of the magic and magnificence of the city regarded as the cruise capital of the world.
Miami, a city located on the Atlantic coast in Southeastern Florida and Capital of Miami-Dade County, enlivens the month of December with the celebration and appreciation of artists and their works from all over the world during the event tagged, "Art Basel Miami Beach". As always, HotelTravelExpress is part of the events to make the experience enjoyable for tourists who are coming from all over the world by linking them with cheap hotels in Miami that offer hospitality at its most comfortable best.
Art Basel Miami Beach is an annual event and one of the largest forums in the world where gallery owners from around the globe, contemporary artists, artwork dealers and art spectators converge in rendezvous for the purpose of art appreciation, appraisal and acquisition.
This year's edition of the event promises to be most exciting and exhilarating as it will be a confluence point for works by over 2000 artists and 160 art galleries from all over the world. Miami is indeed a place to be this December.
This year's edition, the 10th of its kind since inception, is scheduled to take place from the 1st to the 4th of December 2011 at the Miami Beach Convention Center. The event promises out on display, masterpieces from various genres of arts including painting, sculpture, digital and video art, photography, drawing, editions, installation and other such artistic genres.
HotelTravelExpress makes the stay in Miami as hospitable and as cost effective as possible through quality information that travelers find useful in making decision on hotels in Miami, which tourists who will be attending the 2011 edition of the Art Basel Miami Beach need.
For more information, please log on to http://www.hoteltravelexpress.com or contact info(at)hoteltravelexpress(dot)com
###