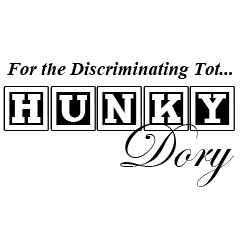 Atlanta, GA (PRWEB) November 08, 2011
The days of expensive and dazzling gifts for toddlers may be coming to end. And that's good news for online baby gift retailer Hunky Dory Online. As the economy continues to slump and unemployment numbers hold steady in double digits many parents are feeling the pinch and opting for practical and simple gifts for their children. Having traded in the gas-guzzling SUV, forgone vacations and seriously cut back on spending the next area for families to save money is in the gifts bestowed on baby boys and girls. No parent wants to disappoint a toddler during the holidays but now instead of maxing out credit cards on over indulgent electronics and expensive designer clothing the impetus is on simple baby gifts and toys that last.
Everyone has come down from the spending craze that typified America in the early part of the past decade. With foreclosures, job losses and retirement savings depleted many families are facing the harsh reality that comes with having to scale back on a particular standard of living. But with the holidays approaching and children getting very excited about Hanukah and Christmas savvy parents are finding ways to spend wisely on practical baby gifts including blankets, hooded towels and plush toys that don't require batteries.
Hunky Dory Online has been in business since 2006 and has seen the ebb and flow of baby gift shopping. One thing they've noticed is that no matter how tight money is parents always find a way to put aside something for the holidays so kids can have a surprise waiting on Christmas morning. But now, instead of extravagant gifts that feature designer labels and toys that need a small generator to operate, parents are returning to simple gifts including limited edition Jellycat stuffed animals, Haba brand educational toys and classic teddy bears from North American Bear Co.
So many people got caught up in the spending rush of the mid 2000's they unknowingly subjected children and pets to the disease of greed. From designer dog collars and salons for pets to brand name designer outfits for children and battery powered replica sports cars the market was saturated with unnecessary products that were outrageously expensive and impractical. Now, with parents more conscious of what they are spending on sensibility has returned and people are once gain realizing the simply joys that come with Woodours teddy bears that don't require batteries and aren't made from plastic.
Another gift option Hunky Dory is seeing a demand for are educational baby toys that not only deliver fun and entertainment but also teach young boys and girls spelling, counting, shapes, measurements and fine motor skills. German manufacturer Haba has a full selection of early learning toys that stimulate the mind of a toddler while fulfilling the need for an entertaining game. From colorful fantasy blocks and clutch toys to stacking blocks and growth charts Hunky Dory offers a great selection of affordable Haba baby toys that educate and stimulate the minds of young kids. To make it easier to shop Hunky Dory is offering 10% off most items on the site with the coupon code HOLIDAY.
Press release services by Keyword Performance, an ethical internet marketing firm specializing in search engine optimization.
###