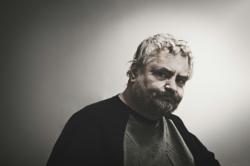 A prolific songwriter, his lyrics focus on a range of familiar American themes, including the joys and pains of love . . . and the allure of rock and roll.
Teaneck, NJ (PRWEB) November 08, 2011
BLAST is proud to announce a series of events celebrating the works of Daniel Johnston, beginning with a screening of the film "The Devil and Daniel Johnston" [Best Director Award, 2005 Sundance Film Festival] at Cedar Lane Cinemas (located at 503 Cedar Lane, Teaneck, New Jersey) on Thursday, December 1st at 6:30pm.
Those attending the screening will be invited to an after-party at BLAST immediately following, which will include a first-look at Daniel's art. Then, throughout the day on Friday, December 2nd, listeners can hear live performances of musicians paying tribute to the artist and his music by tuning in to BLAST's streaming radio station, BLAST LIVE
Finally, on Saturday, December 3rd, there will be an opening reception for "Lost But Free. The Art of Daniel Johnston" at BLAST from 6-9pm.
The show in its entirety will run from Saturday, Dec. 3rd to Saturday, Dec. 31, 2011.
About Daniel:
Daniel Johnston has spent the last 30 years exposing his heartrending tales of unrequited love, cosmic mishaps, and existential torment to an ever-growing international audience. Initiates, including a healthy number of discerning musicians and critics, have hailed him as an American original in the style of bluesman Robert Johnson and country legend Hank Williams. Daniel has collaborated with the likes of Jad Fair (a founding member of Half Japanese), the Butthole Surfers, and members of Sonic Youth. A prolific songwriter, his lyrics focus on a range of familiar American themes, including the joys and pains of love, the exploits of comic book characters such as Jack Kirby's Captain America, and the allure of rock and roll.
Throughout Daniel's life as a musician, Daniel has been an equally prolific visual artist. In recent years, Daniel has gained acclaim and respect for his art that could possibly surpass his legendary status as a musician and songwriter. While at first glance, Daniel's art might give the impression that this is the work of an "outsider" artist, Daniel's visual work communicates the same deep content and startling impact that his songs carry. In 2006 Daniel was featured in The Whitney Museum of American Art's Biennial.
About "The Devil and Daniel Johnston":
Director Jeff Feuerzeig exquisitely depicts a perfect example of brilliance and madness going hand in hand with subject Daniel Johnston. As an artist suffering from manic depression with delusions of grandeur, Daniel Johnston's wild fluctuations, numerous downward spirals, and periodic respites are exposed in this deeply moving documentary. This film won the Best Director award at the 2005 Sundance Film Festival.
About BLAST:
By offering selections of art and other retail items that can't be found in any other store in Teaneck or the surrounding New Jersey towns, BLAST is the place to satisfy one's urban, outsider, independent creative fix. With art shows that change monthly, and a wide variety of specially curated merchandise, there is always a reason to pop into BLAST.
BLAST looks to host multidimensional artists that embody an original independent aesthetic, regardless of whether or not the work would normally be considered "high art".
Recent artists featured at BLAST include: Jad Fair, tattoo artist—Joseph Ari Aloi (JK5), and coming in early 2012—DEVO's co-founder- Mark Mothesbaugh (January 7-30, 2012).
Starting January 2, 2012, BLAST will also include a full coffee bar; offering barista-prepared hot and cold beverages, pastries, and light fare.
BLAST is located at 445A Cedar Lane, Teaneck, New Jersey
# # #