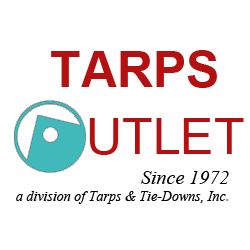 Los Angeles, CA (PRWEB) November 08, 2011
After Hurricane Irene devastated portions of the East Coast and a summer season of disastrous tornadoes ripped across the Midwest, many homeowners are starting to stock up on durable, tear-resistant tarps in preparation for sudden storms, earthquakes and other natural disasters. As images of torn roofs, ripped home sidings and damaged property replay on newscasts and web sites, homeowners are starting to take precautions to prevent extensive damage to their homes and to have emergency shelters and tarps on hand in case a sudden storm should strike.
While there is no absolute protection from an earthquake, flood or cyclone there are a number of temporary fixes a homeowner can perform with the right poly tarp. Tarps Outlets features a wide selection of affordable and durable polyethylene tarps in various sizes that can be used for a number of emergency situations including temporary cover for a damaged roof, substitute shelter from intense rain and as a canopy to keep clothes and other belongings dry. Storms and natural disasters often strike with little or no warning and by having high quality poly tarps on hand you can at least enact urgent safety measures to keep homes and family safe from harm.
With an unusually active hurricane season having just passed many people are wary of the suddenness and cataclysmic destruction powerful storms can cause. From tornadoes in the Midwest and Nor'easters in the Northeast to earthquakes along the Pacific Coast and dust storms in the Southwest there is almost no place in the country that is safe from potentially disastrous weather. Instead of hoping one of these storms misses a particular location more people are getting wise to the idea of having emergency supplies on hand including construction tarps and heavy duty large tarps.
Tarps Outlets is one of the leading online suppliers of poly tarps as well as first response emergency supplies including first aid kits, high visibility safety cones, biohazard kits and neon safety vests. Though there is no way to be fully storm-proof, many emergency rescue experts agree that the more prepared you are the better chance you have of surviving a natural disaster or freak storm. Tarps Outlets has a wide range of tarps and emergency supplies that can be the difference between life and death when a storm does strike. Even the most basic first aid kit can provide enough first response supplies to remedy everything from cuts and bruises to broken bones and infections. As well, the simplest of poly tarps can provide the most needed shelter after an earthquake so families waiting for emergency rescue squads can stay warm and dry.
Press release services by Keyword Performance, an ethical internet marketing firm specializing in search engine optimization.
###