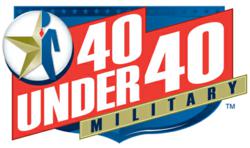 Atlanta, GA (PRWEB) November 06, 2011
CivilianJobs.com, where America's military connects with civilian careers, announced the winners of The Top 40 Under 40 Military Class of 2011 today. The military-experienced individuals were selected by CivilianJobs.com's worldwide military base newspaper, Civilian Job News (CJN), and the winners are being released this week in honor of Veterans Day.
The Top 40 Under 40 Military program recognizes the top service members who are serving or have served in the U.S. armed forces. They are profiled each year in the November/December Veterans Day issue of the CJN. The individuals selected for the 2011 recognition are:

Mike Almeyda, Army, CPT
Jason R. Betzing, Coast Guard, CPO
Tony Bryan, Army, SSG
Jeramy S. Bush, Navy, CPO
Bronston Clough, Army, CPT
Yesenia De La Rosa, Army, SGT
Jason S. Dickie, Army, CPT
Peter Foradori, Jr., Marine Corps, Capt
Joseph E. Guzman, Army, LTC
Paul Hardy, Air Force, Capt
Bristol Hartlage, Navy, LT
Brian Hawthorne, Army, SSG
Haney D. Hong, Navy, LT
Denise M. Johnson, Army, SFC
Timothy Kerrigan, Navy, PO1
Aaron Kletzing, Army, CPT
Robert W. Madel II, Navy, LT
Bryan Maynard, Marine Corps, Sgt
Carl M. Mersman III, Air Force, SrA
William R. Monk, Navy, LT
Pedro Munoz, Army, CW4
Thomas Destre Pagsisihan, Marine Corps, SSgt
Patrick Parker, Navy, PO2
James Piatt, Navy, PO1
Matthew Raymond, Army, CPT
Raymond M. Rhodes, Marine Corps, Cpl
Eric Rogers, Army, CPT
Socrates Rosenfeld, Army, CPT
Cathy Royster, Air Force, Maj
Joe Ruzicka, Navy, LCDR
Luke S. Saladyga, Navy, LT
Eduardo Santana, Navy, PO1
Greg E. Saxon, Navy, LTJG
Adam Stein, Navy, LT
Sara "Sumat" Taylor, Navy, LCDR
Daniela Tomatti, Army, SGT
Brian O. Valhuerdi, Marine Corps, Sgt
Andrea C. Walker, Navy, LCDR
Richard P. Walsh, Navy, PO2
Robert S. Whynot, Navy, SCPO
CJN Publisher Bill Basnett said, "Throughout the year, CivilianJobs.com and Civilian Job News serve to connect employers with the military talent pool. Highlighting the best of the best on Veterans Day helps us remember why so many companies target military-experienced talent as an important part of their recruiting programs."
The criteria for the Top 40 Under 40 Military are as follows:
Serving or has served in the U.S. armed forces
Under 40 years old
Exemplary military performance as per their assignments and evaluations
Honorable discharge or anticipate an honorable discharge
For more information on the Top 40 Under 40 Military program including a pictorial of the 2011 class, go to CivilianJobs.com/40U40.htm.
About CivilianJobs.com
CivilianJobs.com, where America's military connects with civilian careers, delivers job fairs, staffing services, a job board plus employer advertising in our military base newspaper, Civilian Job News. CivilianJobs.com is a WBENC-certified woman-owned business / diversity supplier.
About Civilian Job News
Published since 2005, Civilian Job News is a bi-monthly multi-media publication (print / e-mail / web) featuring practical information for military job seekers, including resume and interviewing tips, transition planning and strategy recommendations, company profiles, and advice from transition experts. CJN is distributed to military bases worldwide including via military transition classes, through Military Transition Offices (TAP and ACAP), military hospitals, USO centers and email distribution.
# # #