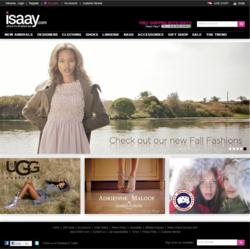 I can unequivocally say that without the partnership and assistance from Demandware, Fluid and Precision Design, our new site would not have been possible
Burlington, Mass. (PRWEB) November 08, 2011
Demandware®, Inc., a leader in on-demand ecommerce, today announced that Isaay.com, a curator of brand name and designer merchandise for the fashion forward woman, has re-launched its online store, http://www.isaay.com, on the Demandware Commerce platform. Upon replacing its open source platform with Demandware, Isaay.com has measured a 200 percent increase in conversion, which the company attributes to its new platform.
Isaay.com offers its customers a unique shopping experience that focuses on delivering the best of women's designer brands, customer service, media and content. The online-only retailer sells clothing, shoes, lingerie, bags and accessories from the world's top designers representing more than 40 brands.
Isaay.com originally launched its ecommerce operations on an open source platform with the intent of building out three different sites, but after a year in development, it was only able to launch one site due to the limitations of the platform. The company realized that its open source platform wasn't capable of supporting its growth plans, and began to search for a new platform that could scale. Other critical requirements included the ability to provide personalized shopping experiences for customers based on geography or key word searches, a central environment for easily managing all merchandising functionality across sites, and international selling capabilities.
After reviewing several options, Isaay.com felt that the Demandware Commerce platform was the only solution capable of meeting all of its requirements. Demandware's entry-level pricing model allowed Isaay.com the opportunity to work with the same platform used by some of the world's top brands for a price they could afford.
"We no longer have to settle for the lesser, inexpensive solution that we know would have to be replaced as our business grows," said Gary Shar, CEO and founder of Isaay.com. "If we want to give our customers premium service, we need premium functionality to do so."
Since launching its new site in July, Isaay.com has realized significant results including:

100 percent increase in daily traffic
Conversion rate increase of 200 percent
Overall increase in sales
30 percent decrease in bounce rate
400 percent increase in page views
25 percent increase in time on site
Isaay.com worked with Demandware Solution Partners, Fluid and Precision Design, on design and implementation, which took six months to complete. According to Shar, "Our partners bent over backwards and called in all their top-level people to get our site up quickly without cutting any corners."
Shar concluded, "We have had both the pleasure and misfortune of dealing with many vendors since inception of the company. I can unequivocally say that without the partnership and assistance from Demandware, Fluid and Precision Design, our new site would not have been possible. The support and follow up we have received since launch has also been overwhelming. We are so excited about our future together as we grow to become a ground-breaking ecommerce site changing the way consumers shop online."
Future plans for Isaay.com include the addition of a mobile commerce site leveraging Demandware's mobile application. The unified environment between mobile storefront and ecommerce website will provide Isaay.com customers with a seamless, cohesive shopping experience wherever they may be.
"There's nothing more exciting for a technology vendor than to partner with such a passionate and dedicated retailer," said Jamus Driscoll, senior vice president of marketing at Demandware. "Isaay.com has put its trust in us and our platform to help them take their business to the next level"
About Isaay.com
Isaay.com offers style-conscious women a personalized high-fashion online shopping experience. Featuring thousands of items from the world's best designers, Isaay.com emphasizes great customer service, free shipping both ways, a 90-day return policy, and makes it "All About You" by offering curated collections of the top designer brands and style guides that provide advice on how to wear great fashion. For more information, visit http://www.isaay.com.
About Demandware
Demandware is a leading provider of software-as-a-service (SaaS) ecommerce solutions that enable companies to easily design, implement and manage their own customized ecommerce sites, including websites, mobile applications and other digital storefronts. Customers use our highly scalable and integrated Demandware Commerce platform to more easily launch and manage multiple ecommerce sites, initiate marketing campaigns more quickly, and improve ecommerce traffic. For more information about Demandware, visit http://www.demandware.com, call 888-553-9216 or email info (at) demandware (dot) com.
Demandware is a registered trademark of Demandware, Inc.
Media Contact:
Christine Major
Corporate Communications Manager, Demandware
Office: 781-425-1228 Mobile: 603-743-4534
Email: cmajor (at) demandware (dot) com
###