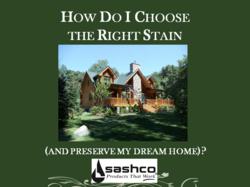 "Really enjoyed the session on choosing the right stain---very informative and I learned a lot."
Brighton, CO (PRWEB) November 04, 2011
On August 18th, 2011, Sashco was proud to partner with The Log and Timber Home Show to present an educational webinar about choosing the best stain for log and wood homes.
From all accounts, it was a huge hit. One attendee raved, "You all did a great job! Undoubtedly, the best webinar I've attended thus far." Another said, "Really enjoyed the session on choosing the right stain---very informative and I learned a lot."
The webinar focused on both how to prepare a log or wood home prior to staining, and then went into detail on types of stains available and which stain to choose. "Most log and wood homes are built after years of dreaming and planning by their owners. We wanted to share with these homeowners exactly how to go about choosing a stain and doing the work properly so they can preserve their home for years to come," said Tari Warwick, Log Division Sales Manager. The webinar was yet another avenue for Sashco to share its expertise and further solidify its reputation as the educational authority in log and wood home finishing and maintenance.
Watch the webinar now at http://www.thelogandtimberhomeshow.com/webinars/.
About the Company
Since 1936, Sashco has been a leader in innovative products proven to stand the test of time. They manufacture only the highest quality sealants and finishing products for conventional, log and wood structures. Sashco is committed to delighting the customer with a better way by consistently providing products that work. Visit http://www.sashco.com for more information.
###