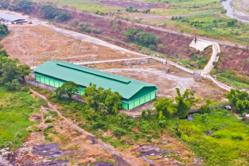 CLARK FREEPORT, PHILIPPINES (PRWEB) November 04, 2011
True Green Energy Group (TGEG) (Frankfurt: TGG.F) has formally welcomed its newest partner– CJ Consortium Group Inc. – in a bid to build low cost housing units in Pampanga.
TGEG Founder and Chairman Ronald Flynn announced their partnership with CJ Consortium Group Inc. during a meeting at the Hotel Vida in Clark Freeport on Saturday.
"More than environment preservation, TGEG understands that most employees in highly urbanized cities live in rural areas far from their workplace. Given that situation, we wish to help Filipino employees by building low cost housing especially for them," Flynn said.
Renato Lee III, chief executive officer of TGEG, added that their housing venture is part of their efforts in uplifting the socio-economic status of Filipinos.
"We wish to take part in uplifting the lives of poor Filipinos starting in San Fernando by building at least 500, 000 housing units," Lee said.
Lee added that TGEG will also build housing units outside the City of San Fernando once gasification systems in neighboring towns and cities are completed.
TGEG has already put up a materials recovery facility in San Fernando which is now being developed to turn garbage into electricity and oil.
For the housing project, CJM Development & Construction Inc. (CJM), a division of CJ Consortium Group's company, is expected to carry out Flynn's vision of low cost housing.
CJM has been known in promoting innovative building systems. Their system was designed to give concrete answers to multiple building needs. Its features make it suitable to build accommodations in seismic areas or places which have suffered natural disasters.
"Our construction system is based on modular elements made of shaped polystyrene panels that are contained between two sheets of galvanized welded meshes. The vertical mesh wires are set along the polystyrene 'waves' thus creating reinforced concrete micro pillars once the panel is coated with concrete (this technique has been used successfully to reinforce historic or artistic buildings)," CJM officials said in a statement.
Moreover, CJM's system has been known as one the bravest and most technologically state-of-the art solutions in terms of time and money saving. Such features make building system suitable to be used in developing countries or in the suburbs of the world larger cities where there is a strong need for decent and safe accommodations for the less wealthy classes.
Today, CJM officials said responsible and far-sighted governments can start designing and producing homes intensively thanks to the system: a standard, unique and versatile, light and resistant at the same time, to build socially valuable.
Aside from Founder and Chairman Flynn, TGEG Vice Chairman Dr. Reza Arabpour, TGEG President John Lamb and Director for External Affairs Renato Lee Jr. also graced the welcome meeting for CJ Consortium officials.
###