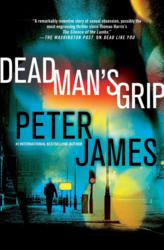 Once you pick this one up, good luck putting it down. It's a brisk, smart, nerve-rattling read.
(PRWEB) November 07, 2011
"Dead Man's Grip" by bestselling thriller writer Peter James has received strong reviews in advance of its November 22 hardcover release in the United States. The novel shot straight to #1 on the UK bestseller charts, and American readers are now eagerly anticipating the release of this latest installment in James' popular Detective Roy Grace novels. To learn more about Peter James, please visit http://www.PeterJames.com. Book critics at major American news outlets were given the chance to pore over the novel prior to its public release, and reviews have been overwhelmingly positive:
"This seventh entry in James's Roy Grace series (after Dead Like You) can be read as a stand-alone. Dollars to doughnuts your readers will come back begging for more after this exciting one. For fans of Lee Child and Jeffery Deaver." - Library Journal
"Once you pick this one up, good luck putting it down. It's a brisk, smart, nerve-rattling read." – Allison Block, Booklist Review
"The grim creativity of the victims' deaths and the ease of movement of the action are two of the many compelling reasons to stick with this series." – Publisher's Weekly
"Brighton detective Roy Grace is back in this gripping read, which is a fine introduction for American readers who have not been previously exposed to UK author James." – Romantic Times
"Dead Man's Grip" tells the chilling story of Carly Chase, who is traumatized after being involved in a traffic accident that kills a teenage student. After the accident, she receives news that turns her entire world into a living nightmare: the drivers of the other two vehicles involved have been found tortured and murdered, and there is a connection to a New York Mafia family.
Peter James is one of the world's best selling crime and thriller novelists. The murder mystery writer has developed a close working relationship with the Sussex, UK police over many years, spending an average of one day a week with them. His writing reveals a unique insight into the reality of modern day police work and forensic science. He has also carried out extensive research with police in Moscow, Munich, Paris, Melbourne, Sweden, New York and Romania, and regularly attends international police conferences to ensure he is at the cutting edge of investigative police work.
Peter James' loyal readers around the globe have made his novels international bestsellers, and spread the word about the author through Twitter, blogs and his very active Facebook page: http://www.facebook.com/peterjames.roygrace.
"This is the seventh novel I have written featuring Detective Superintendent Roy Grace, and I am thrilled to say that the series has now sold over six million copies worldwide and has been translated into thirty-four languages," James remarked. "The story of "Dead Man's Grip" is also a particularly resonant one for me. One of the novel's key scenes, in which a white van is recovered from the bottom of a harbor with the driver still inside, plays on my own claustrophobia, which is an intense fear that I'm sure many of my readers share."
"Dead Man's Grip" can be preordered online, and is available in hardback and audiobook from Minotaur Books in stores and online starting November 22, 2011. For additional information on thriller writer Peter James, his Roy Grace detective series and his standalone works, please visit http://www.PeterJames.com.
###