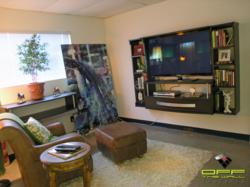 We saw an opportunity to reinvent the TV Stand to address the needs of today's flat panel TVs
Lewisville, TX (PRWEB) November 11, 2011
Ever wondered why TV stands haven't evolved like TV technology? Today's flat panel TVs are sleek, slim, lightweight and full of the latest technology, enhancing the entertainment experience. However, TV Stands haven't changed much since their introduction in the 70's. TV stands take up a lot of room and don't complement today's high tech TVs.
Off The Wall Concepts designs and produces gaming and media furniture to enhance today's TV technology. "We saw an opportunity to reinvent the TV Stand and address the needs of today's flat panel TVs," said Joe Battaglia, creator of Off The Wall Concepts. "Our designs mount to the wall and provide a total solution for the TV and all the necessary A/V equipment, media, and accessories." "You can save the cost of a wall mount and yet have the same feel since our units are mounted to the wall and support TVs weighing up to 100lbs," said Tony Rodriguez, designer for Off The Wall Concepts. "It is amazing how much larger a room feels after one of the units is installed." Everything is off the floor making it much easier to clean and keep a room organized.
Wire and cord management is another key feature of Off The Wall Concepts. With one power strip or surge protector plugged into an outlet, all the components can be powered and cords will be hidden in a rear compartment or tray, out of sight.
Ease of assembly is another benefit. There is minimal hardware required. The main component is the carrier rail that mounts to the wall. A power drill, ½" dia. bit, tape measure, pencil, and a level are all that is need for installation. A template is provided for locating the carrier rail and drilling the holes; there is no need to find a stud. Once the carrier rail is mounted to the wall, the remaining components go together without tools or fasteners.
Off The Wall Concepts Media Furniture is available in five designs that come with or without storage and in two finish options Zambukka and Xanadu all with silver metal accents.
All the components are produced in the USA at the company's headquarters in Lewisville, TX. UDFC uses high quality CARB certified materials. To view the entire line go to http://www.offthewallconcepts.com.
About offthewallconcepts.com
Off The Wall Concepts is a branded product line of Universal Display & Fixtures Co. (UDFC) located in Lewisville, TX. All components are made in the USA. UDFC is a privately owned, certified Minority Business Enterprise.
###