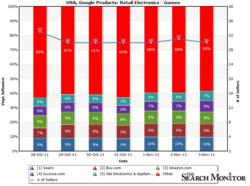 Orlando, Florida (PRWEB) November 08, 2011
The Search Monitor, a leading provider of real-time market intelligence tools, added Shopzilla and PriceGrabber to its shopping intelligence platform. The Search Monitor provides competitive share of voice, page share, ratings history, and rank data on sellers across Google Products, Shopzilla, and PriceGrabber. Shopping intelligence data is available for the following markets, as supported by each shopping engine: USA, UK, Australia, Germany, France, Japan, China, Italy, The Netherlands, Spain, Canada, Mexico, and Brazil.
The Search Monitor's shopping intelligence reports include item details searchable by keyword with listing copy, offer price, page rank, and free shipping deals PLUS Seller details including page rank, use of shopping carts like Google Checkout, share of voice and share of page, and ratings and reviews history. Merchants can use the shopping intelligence data to formulate advertising strategies, devise price based promotions, and benchmark market exposure versus competitors. Manufacturers and distributors can use the shopping intelligence data to police retailers for adherence to distribution channel restrictions like price compliance.
Shopping engines are an important marketing channel. According to Channel Advisor's 2011 Consumer Survey, 65% of consumers prefer online shopping versus 30% who prefer offline brick and mortar. Consumers overwhelming start their shopping using a search engine first – 73% of consumers in Channel Advisor's survey started their shopping activities at a search engine.
About The Search Monitor
The Search Monitor provides real-time market intelligence to monitor brand and trademark use, affiliate marketers for compliance, and competitive advertisers on paid search, organic search, social media, mobile, and shopping engines worldwide. Interactive agencies, search marketers, and affiliate marketers use The Search Monitor to gather and analyze competitive information more effectively. To learn more please visit http://www.thesearchmonitor.com.
###