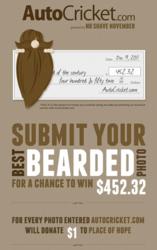 Does your BEARD have what it takes?
West Palm Beach, FL (PRWEB) November 05, 2011
AutoCricket.com is celebrating the Global event, "Movember", by launching a charity fundraising event though its Facebook Fan page. The event is a part of AutoCricket.com's annual No Shave November, with this years focus on raising funds for the non-profit organization,Place of Hope.
The campaign launched November 1st, 2011 through AutoCricket.com's Facebook fan page. All bearded American's can go to the page, enter their bearded photographs to be entered for a chance to win $452.32. For each photograph entered, AutoCricket.com has pledged to donate $1 to the Place of Hope organization. Submissions for the best beard in America will end November 30th, 2011, where at this time AutoCricket.com's team of bearded specialist will narrow down all submissions to the top 5 photographs. The top 5 entries will be placed on the AutoCricket.com Facebook Fan Page, where Facebook fans can vote for the best beard. The winner of the No Shave November 2011 campaign will be based on the photograph with the most "likes". Voting for the photographs will begin December 1, 2011 and go through December 8th, 2011. The winner of the competition and recipient of $452.32 will be announced on December 9th, 2011.
So, does your beard have what it takes? Enter your beard at http://www.facebook.com/autocricketfanpage.
AutoCricket.com is also holding an internal competition where male members of AutoCricket.com have agreed to go shave-free for the 30 days of November. If all members go shave-free, AutoCricket.com will donate $1,000 per participant to Place of Hope, for a total of $7,000.
AutoCricket.com's involvement in No Shave November for charity is part of its outreach efforts, where throughout the year AutoCricket.com teams up with multiple local charities to bring awareness and aid to the selected organizations.
For more information about AutoCricket.com's No Shave November 2011 visit http://www.facebook.com/autocricketfanpage.
Place of Hope
Place of Hope is a unique, state-licensed child welfare organization providing family-style foster care (emergency and long-term); family outreach and intervention; transitional housing and support services; adoption and foster care recruitment and support; hope and healing opportunities for children and families who have been traumatized by abuse and neglect throughout our region.
AutoCricket.com
AutoCricket.com is a multifaceted company with a consumer-friendly interface enabling consumers to meet all of their automotive needs. The simple forms with drop down menus and self-generated answers have made searching for automotive insurance and new vehicle prices easier for consumers. AutoCricket.com strives to provide a simple solution for those who have automotive needs, whether it is to search, finance or insure.
For more information about AutoCricket.com, contact Ashley Emery at 561.845.2391.
###