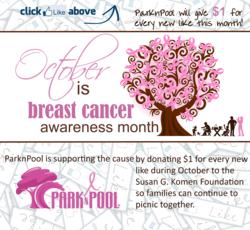 I was excited that we were able to raise money for breast cancer. It was great to see the support we received from our friends and clients!"
Lexington, VA (PRWEB) November 04, 2011
ParknPool commemorated Breast Cancer Awareness Month by using social media to spread the word and raise money for the Susan G. Komen for a Cure Foundation. ParknPool is an online distributer of commercial grade furniture, field and sports equipment, bleachers, restaurant seating and site furnishings. Susan G. Komen for a Cure, founded in 1982, is a worldwide leader in the fight against breast cancer. They are the largest source of not-for-profit funding committed to finding a cure for breast cancer.
According to the Susan G. Komen for a Cure website, breast cancer is the most frequently diagnosed cancer, and the leading cause of death by cancer, in the world. Every 23 seconds a woman, somewhere in the world, is diagnosed. However, huge strides have been, and continue to be, made in the battle against breast cancer. As more and more women are being regularly screened, even with over 1 million women worldwide being diagnosed last year, mortality rates are decreasing. In the United States alone, there are currently over 2 million breast cancer survivors.
Understanding that social media plays a larger role in a business marketing plan than ever before, ParknPool has spent the last five months reconstructing and re-launching its social media presence. "We now have a weekly blog, a bi-weekly 'Insider Scoop' video channel, and we are also on Twitter, You Tube and LinkedIn" explains Marketing Manager, Laura Dudley. Realizing the power of social media, ParknPool teamed up with the Susan G. Komen for a Cure Foundation and donated a dollar for every new "like" the company received on their corporate Facebook page.
Sarah Sorrells, ParknPool's Graphic Designer, states, "I was excited that we were able to raise money for breast cancer. It was great to see the support we received from our friends and clients!" ParknPool is involved with a number of organizations, including the American Cancer Society, Comfort Care Women's Health, the YMCA, Young Life, and Compassion International.
For more information about ParknPool please call 877.777.8700 or visit http://www.parknpool.com. For information about the Susan G. Komen foundation, please visit http://www.komen.org.
About ParknPool Corporation:
ParknPool is a Veteran Owned SBE/WBE Company and is the leading online supplier of commercial grade furniture and site amenities such as picnic tables, trash receptacles, park benches, bleachers and restaurant furniture. ParknPool began in 1998 in Orlando, FL and moved their headquarters to Lexington, VA in 2005.
###