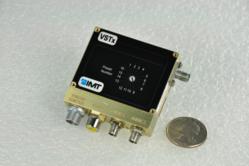 Baltimore, MD (PRWEB) November 07, 2011
Integrated Microwave Technologies, LLC (IMT), a Business Unit within the Vitec Group's Videocom Division, and a leader in advanced digital microwave systems for MAG (Military, Aerospace & Government) markets, showcases its range of state-of-the-art digital microwave video systems for portable and fixed link applications at MILCOM 2011, the premier international conference for military communications (Booth 951).
Ultra-Compact and Compact Transmitters and Receivers
IMT is highlighting its ultra-compact VSTx COFDM Transmitter at this year's show. VSTx is an ultra-small, low-power, standard definition (SD) transmitter ideally suited for UAV/UGV, robotic, concealed body-worn video wires and other surveillance applications. The VSTx features superb H.264 SD encoding and operates in the standard 2k DVB-T COFDM mode. Only two cubic inches in size and weighing in at 26.3 grams, the VSTx is available with two connector options. The first model features a standard connector for simple interfacing in the field. The VSTx can easily be used in fielded small robotic applications, as well as body-worn operations. The second model features a small flex ribbon interface cable that is ideal for direct integration in OEM systems design. The VSTx transmitter can be operated in 1.25-or 2.5-MHz narrow-bandwidth COFDM (NBCOFDM) modes with an RF output up to 100mW. This mode uses the RF spectrum more efficiently, permitting more transmitters to be used simultaneously, or allowing their usage range to be extended. Narrow bandwidth also delivers extended usable range, with no additional power output required.
Also featured will be IMT's state-of-the-art STx COFDM Transmitter. The STx delivers HD/SD output at 250mW in 2k DVB-T COFDM mode. It occupies less than five cubic inches, making it ideal for any covert or body-worn operations. It supports video/audio/data transmission with selectable modulation bandwidths of 6, 7 and 8MHz. The STx can output 250mW and may be reduced to low-power 20mW with the simple press of a button. If using a single video stream, users can simply switch the STx into NBCOFDM (1.25 MHz/2.5 MHz) and double the range without increasing RF power. A video test pattern generator that is designed into the STx can be controlled externally, through the preset switch or programmed to be automatically enabled when the video input is lost. The STx has an ASI input and output providing the ability to stack or multiplex multiple units. Because it is capable of AES encryption, the STx is ideal for public security monitoring, covert surveillance and other secure transmission applications. It also has a clean and user-friendly local control panel. Its user interface allows quick control of preset selection, RF power, standby modes and covert display mode.
IMT's SRx HD/SD Dual Input Diversity COFDM Receiver, a ruggedized dual-diversity COFDM receiver that combines exceptional RF performance and ease of operation, built in a durable, weather resistant package, is also being showcased. It features superb H.264 SD and HD decoding and supports a broad array of video output signals, including HD, ASI, HD-SDI and SD-SDI (SDI is auto switched depending on the signal received). The SRx also has a composite video output, which is down-converted to SD when receiving HD signals. The SRx receiver uses standardized cables and requires no special adapters. It also features an Ethernet port for streaming video over a LAN to remote software or hardware decoders. This allows many remote viewers to monitor the same video simultaneously, increasing situational awareness.
IMT's VSRx Dual Diversity COFDM SD Receivers offer exceptional RF performance combined with high ease of operation. The VSRx features superb H.264 SD decoding. These features are combined in a durable package delivering unequaled value in a high-quality COFDM receiver. The VSRx features AES decryption capabilities, making it ideal for public security monitoring, covert surveillance, and other secure transmission applications. Supporting a broad array of video output signals, including ASI and SD-SDI, the VSRx unit also has a composite video output.
Handheld Receiver / Monitor
IMT's MobilCMDR (C-COFDM M-Mobile D-Diversity R-Receiver), ruggedized (DVB-T-compliant) dual-diversity handheld receiver/monitor is also on display at this year's exhibition, available in both the 4.7- and 6.4-GHz frequencies that are used most often for law enforcement and public safety. The MobilCMDR is ideal for airborne downlinks and mobile vehicles that operate in tactical and/or strategic settings. It offers exceptional RF performance and durability, combined with true ease of operation and superb H.264/MPEG-2 decoding. The unit displays received video images on a built-in nine-inch high-brightness display. The display also features an easy-to-use menu-driven interface. The MobilCMDR is also available with AES decryption capabilities.
Digital Repeater
IMT's X-Tender Digital Repeater is a modular solution utilizing the key components of the STx, SRx and ALPA power amplifier to provide a wide variety of solutions including cross band repeater, multi-camera encoding solutions, local encoding/multiplexing at the repeater site and bi-directional radio links.
Simple cross-band repeater applications can be achieved to extend the working range of the VSTx and STx. This is of critical advantage when the tactical location, scene or event has dead zones, making a reliable direct transmission difficult to achieve. The X-Tender digital repeater can be used as a simple repeater, receiving and then re-transmitting to another location, overcoming the dead zone.
The X-Tender is an extremely powerful and flexible package. If the surveillance or event requires multiple cameras, the STx can be used to encode a local camera, to the repeater, and multiplex it along with the video source being repeated. This gives added capabilities and serves as a force multiplier delivering Repeater additional views on the same link.
Noise Amplification
Also featured is IMT's HDRLNA (High Dynamic Range Low Noise Amplifier), a ruggedized self-contained low-noise amplifier. The HDRLNA has a 24- or 28-dB gain option with internal band filtering. It has an extremely low noise figure, enabling users to integrate the HDRLNA into their system without degradation to the receive signal. The HDRLNA is ideal to use at the front end of any receiver to extend the range of the system or overcome cable loss due to long cable runs to receive antenna systems.
Power Amplification
IMT's ALPA (Auto Leveling RF Power Amplifier) will also be showcased at MILCOM 2011. THE ALPA can be used with the STx or another nominal 200 mW DVB-T source to boost the output power level to 2 Watts. It features a proprietary auto-leveling circuit that maintains the RF output power constant at 2 Watts. The use of industry-standard interfaces makes this product compatible with multiple vendors' equipment. The performance is suited for today's digital modulation techniques, including COFDM, QPSK, 16QAM, 64QAM and VSB.
About Integrated Microwave Technologies, LLC
Integrated Microwave Technologies (IMT) is a Business Unit within the Vitec Group's Videocom Division. IMT's solid reputation as a quality leader and a trusted provider of mission-critical wireless video solutions has enabled the company to obtain business with state and local police departments, NASA, the Department of Justice, the US Air Force as well as blue chip defense contractors. IMT is an ISO 9001:2008 certified QMS organization and recipient of multiple industry awards for design and innovations.
More information can be found at http://www.imt-government.com.
###