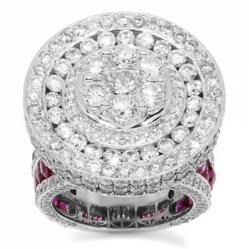 "The price range doesn't matter to us, all of our rings are produced with hand selected diamonds that undergo a thorough inspection to meet a certain level of quality." - George Avianne, Director of eCommerce
New York, NY (PRWEB) November 04, 2011
Looking for a gift this holiday season for that special man in your life? Whether it be your father, son, brother, or best friend, a mens diamond ring is the ultimate display of classiness.
This season, save 10% off mens diamond rings from Avianne & Co Jewelers when mentioning coupon code XMAS at the online store. At Avianneandco.com, customers can find exclusive designs handcrafted with the finest diamonds and gold available in the industry. As a promotion for the 2011 holiday season, Avianne & Co jewelers are opening up a 10% sale for all diamond rings for men, when customers input coupon code "XMAS" into the checkout.
Notorious for specializing in Celebrity Diamond Jewelry, the expert craftsmen at Aviannes are known for masterful diamond setting and the use of high end round and princess cut diamonds in all items. "The price range doesn't matter to us, all of our rings are produced with hand selected diamonds that undergo a thorough inspection to meet a certain level of quality", says Director of eCommerce, George Avianne.
The designs at Avianne & Co jewelers are entirely exclusive to the company, and cannot be found anywhere else. Take for example this custom design produced for SB, hype man for Nicki Minaj. The SB ring was a collaborative effort between Avianne & Co and the man himself.
Composed of 5.88 ctw of Rubies, and 8.50 carats in diamonds, all hand set in a 14k white gold frame. Take a look here at the full details for SB's diamond pinky ring.
This Holiday season, all rings are on sale. Make this season the one to remember for your loved one, and visit Avianne & Co for the perfect gift.
###