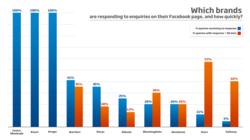 These are real customer service issues and, if not immediately addressed, they won't be going away any time soon.
(PRWEB) November 05, 2011
Software provider Conversocial this week unveiled the results of a white paper exploring the ways in which the nation's largest retail brands address the needs of their customers on Facebook and Twitter, in an announcement at the Social Media for Customer Service Summit held in New York City. The analysis measured how seriously US retailers are addressing the customer demand for reliable customer service on social media and how the use of this customer service channel compares to telephone and email.
The research, entitled Who's Ignoring Their Customers?: A Survey Of The Largest US Retailers and Their Use of Social Media, was conducted by Conversocial, a provider of social media tools for brands seeking to improve their customer service through Facebook and Twitter. Joshua March, CEO and co-founder of Conversocial, presented the findings during the panel, "Turning Your Customers – and Your Critics – Into Brand Ambassadors," where executives from Coca-Cola, Four Seasons Hotels, TELUS, and Xbox also participated.
March concluded that while large retailers are showing an awareness of the challenges posed by social media, reflected in their (relative to the sample) fast average response times, they are still falling short on missing complaints. The ways in which retailers are handling social customer service can create recurring issues and grow the volume of the customer service burden: be these poorly targeted messages which create dissatisfaction with in-store offerings, or ignored questions which build momentum and attract follow up complaints. Many retailers could do more to keep the relative volume of issues on their Facebook pages and Twitter feeds down.
Specific findings of the research include:
Missing Customer Complaints and Questions: Missing genuine complaints and questions in posts and comments was quite high and represents a real pitfall for retailers in the sample. Walmart, the largest retailer in the sample, missed 40% of all customer service inquiries, while Costco, Kmart and Kroger missed 100%. Conversely, Safeway did well, missing only 5% of posts.
Response Times: Those retailers with a larger volume of complaints; Sears, Walmart and Safeway; were fastest in the list. While it may appear on first glance that those retailers with the heaviest burden of customer service issues are performing best, with quicker average response times, this conclusion fails to play out across the board.
America is Slower Than the UK: As a group, US retailers are generally slow at responding to their customers, with none of the ten averaging at under an hour, compared with 2 retailers in our UK sample achieving a quick average time.
Current "Solutions" Not Working: The paper explains why redirecting to email is bad social customer service and why customer service apps, like the one provided by Walmart, are not working.
Surprising Winner: Safeway was the best retailer in our sample in terms of dealing with the full complaint on the wall. Whilst they still redirect some complaints to a Facebook dedicated email and a Freephone number, a significant number of conversations about customer satisfaction are handled on social media outlets.
Incident Resolution: High volumes of issues are self-reinforcing, meaning companies can find themselves sucked into a vicious cycle and a complaints plagued wall, the longer they leave them ignored. This need for quick incident resolution could be a real downfall. Although some fast average response times may suggest that customer service is being tackled – like a singular message requesting the customer to email a standard customer support address - the issue itself hasn't been dealt with at all. In this way, real customer service isn't happening yet in social channels (apart from some progress from our leader, Safeway).
Assessment of 'Results': US retailers are a mixed bag. Tail-enders represents the group who show no interest or commitment to social customer service. Then there is the bulk group representing the inconsistent middle grounds that have both quick responses and missed comments. This results from a general failure to establish response time commitments like aiming to respond to all customer questions in one hour.
"These are real customer service issues and, if not immediately addressed, they won't be going away any time soon," said Joshua March, CEO and Co-Founder of Conversocial. "Either these retailers will incur the cost of more customer complaints, or worse yet they'll potentially lose a customer, either way it's safe to conclude that customers will increasingly talk about their experience via social media."
The companies sampled by Conversocial were based on a list of most Loved and Hated brands, measured according to positive and negative mentions on social media, in a public study by Amplicate, which collects consumer opinions posted on social media. Conversocial reviewed the retailers' Facebook pages over a period of 5 working days in September, from the 15th to the 21st, to assess how quickly, and how often, they responded to complaints and questions, awarding scores of 0 to 5 for each response and took an average for each retailer.
Headquartered in London, Conversocial is expanding into the American market and recently announced they have processed more than 30 million customer service interactions on social media, growing at a clip of 2.5 million per month. Companies and organizations such as Groupon, ITV, Tupperware and The University of Phoenix are using Conversocial's Software-as-a-Service to manage the flow of customer service enquiries and discussions on Facebook and Twitter.
# # #