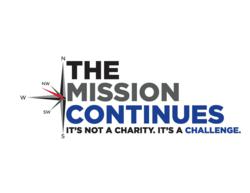 "The Mission Continues was concerned that I had fallen down serving our country, but they more concerned that I got back up on my feet, and continued to serve."
St. Louis, MO (PRWEB) November 04, 2011
On Veterans Day, Goldman Sachs Gives, a donor-advised fund, and Target are independently partnering with the national nonprofit, The Mission Continues, to sponsor community service projects in major markets across the United States. The projects are part of a growing movement of post-9/11 veterans who are making a difference by serving in their communities while rebuilding their own sense of purpose here at home.
"This Veterans Day there is a new storyline emerging about America's young veteran population; men and women are returning from war, eager to take up the mantle of leadership at home," said Eric Greitens, Navy SEAL (reserves) and CEO of the Mission Continues. "Veterans are embracing community service as an important step in finding purpose at home and rebuilding their lives post-military. By picking up shovels and paint brushes on Veteran's Day, these men and women demonstrate why they are indeed the next 'greatest generation.'"
Upon returning home from military service, many veterans struggle to find purpose without the structure, mission and camaraderie of a military unit. This loss of purpose often manifests as depression, unemployment, relationship problems, substance abuse, and, in an alarming number of cases, suicide. This is the storyline that most American's are familiar with as it is so heavily portrayed in the media. But studies and anecdotal evidence are showing that through helping others, veterans can quickly rebuild purpose and make the successful transition to civilian life.
"The Mission Continues was concerned that I had fallen down serving our country, but they more concerned that I got back up on my feet, and continued to serve," said Pete Sutherland, Army veteran and Mission Continues Fellow. "The Mission Continues drew my attention because… you are challenged to go out and make a difference. I proudly accepted the challenge, and it has been remarkable experience for me."
Target Community Relations, the philanthropy arm of Target Corporation (NYSE:TGT) and The Mission Continues will together execute fifteen service projects in Anchorage, Baltimore, Chicago, Dallas, Honolulu, Minneapolis, Nashville, New Orleans, New York City, Norfolk, San Antonio, San Diego, Seattle, St. Louis, and Washington, DC. All the projects will benefit schools that have been classified as Title 1 under the No Child Left Behind Act. The projects will include landscaping, painting murals, small repairs in classrooms, renovating cafeterias, rehabbing playgrounds and more. View more information on these projects.
Goldman Sachs Gives and The Mission Continues will undertake sixteen service projects in nine cities: Boston, Chicago, Jersey City, Los Angeles, Miami, New York City, Salt Lake City, and San Francisco. Working together, veterans and civilians will rehab veterans' centers, volunteer at homeless shelters, and create care packages for wounded and disabled veterans. View more information on these projects.
"Providing our veterans with service opportunities is a crucial step towards helping veterans rejoin their communities," said Gary Giglio, Managing Director at Goldman Sachs and Board member of The Mission Continues. "We are proud that we can support The Mission Continues' service projects as well as other initiatives designed to help returning veterans through Goldman Sachs Gives."
About The Mission Continues
The Mission Continues is a national nonprofit organization that has committed to transform the lives of post-9/11 veterans by challenging them to serve again as civilians. Founded in 2007 when Navy SEAL Eric Greitens returned from Iraq, the organization offers paid service fellowships to veterans, awarding nearly 200 fellowships in 30 states to date. The Mission Continues is reshaping the way this country welcomes home our veterans by showing that these men and women are tremendous assets whose leadership and skills can be vital to their community's improvement. For more information, please visit http://www.missioncontinues.org.
###