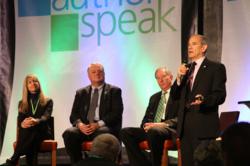 Beyond Indianapolis, a robust dialogue formed online spanning over 23 million impressions on Twitter alone.
Indianapolis, IN (PRWEB) November 09, 2011
Educators from across the U.S., Canada and the world converged in Indianapolis last week for the first-ever authorspeak, a gathering of 96 authors presenting their latest research and work as it relates to education's top challenges. The event attracted educators from 46 states and several Canadian provinces, including over 500 local Indiana educators for three days of conversation on-site. Authorspeak's digital audience reached over 1.2 million people through record-breaking social media activity.
Presented by Solution Tree, based in Bloomington, Indiana, the conference featured 96 of the publishing company's most recent and relevant authors who led 77 sessions on a broad range of topics including social media in the classroom, professional learning communities, assessment and grading, mobile learning and instruction. Attendees included state department officials, principals, classroom teachers, administrators and superintendents from across the nation.
The conference's presentations and shared research met the goal of helping educators explore relevant, flexible and meaningful ways to support learning in schools through professional development. Beyond Indianapolis, a robust dialogue formed during the three-day conference, spanning 27.8 million impressions in Twitter alone. Across all measurement, the volume of social media activity broke education conference records for digital engagement.
Twitter engagement data (courtesy of hashtracking.com and trendmap.com) includes:

7,100 original tweets during the conference using the #authorspeak hashtag
1,600 Twitter users contributing to the #authorspeak conversation
1.2 million Twitter users reached
#authorspeak trending in several cities globally, including Indianapolis
Authorspeak 2012 will be held in Indianapolis, October 30-November 1, 2012, featuring authors who have performed new research and published new work in the previous two years to ensure relevancy and vibrancy in the dialogue.
###