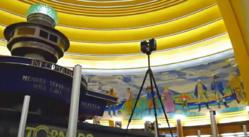 Cincinnati, OH (PRWEB) November 06, 2011
Using a portable, high-speed long range laser scanning device, engineers at 3D Engineering Solutions digitized precise measurements of The Cincinnati Museum Center at Union Terminal. In just hours and with millimeter-accuracy, the Faro laser scanner captured every part of the art deco structure as millions of data points. The 53 gigabytes of data generated is now being used for Building Information Modeling (BIM) in aggregation with other software, giving architects and engineers ability to create simulations of how best to preserve the National Historic Landmark. A fly-through video showing the expansive structure and its detail was also created.
3D Engineering Solutions donated their services and data collected to the Cincinnati Museum Center. Company Vice President of Operations, Rob Glassburn, said, "Mapping a facility is just one example of what long range laser scanning can do. Our tool can be used to accurately inspect structures or to capture crime scenes. Even if it's pitch-black outside, the scanner can read tire treads, residues and surface textures."
3D Engineering Solutions acquired the long range laser scanner in December 2010 and has employed its technologies for several projects, including bridge inspection and measurement for the renovation of a large power plant facility.
About 3D Engineering Solutions:
Customers rely on 3D Engineering Solutions to design process tooling and fixtures for the automotive, industrial, green energy, nuclear and aerospace industries, using engineering tools such as Unigraphics NX7 Mach 3 CAD platform. Leading edge point cloud software, InnovMetrics PolyWorks, allows a common software platform for collecting data across all of Faro laser-based data collection platforms. In addition to reverse engineering services, 3D Engineering Solutions is registered with the State of Ohio for Professional Engineering and ISO 17025 Certified for third party inspection. In their sixth year of operation, the company maintains a state-of-the-art, climate controlled metrology lab, servicing the Midwest OEM needs for 3D laser scanning, data collection, 3D CAD modeling, FAI / PPAP inspection, and reverse engineering services. 3D Engineering Solutions brings more than 100 years of collective experience to every engineering project. For more information about long range laser scanning services or general information about 3D Engineering Solutions, call 513-771-7710 or visit the company's website at:
###