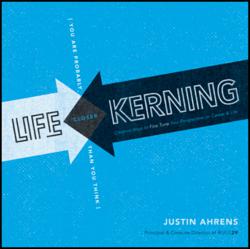 "This book is about you - the business owner, creative director, worker bee, creative problem solver, or just the person whose life is a little out of whack and needs a nice realignment." says Ahrens
Hoboken, NJ (PRWEB) November 08, 2011
There is a common misconception that positive change in one's life only comes from a complete system overhaul, but Justin Ahrens, author of Life Kerning: Creative Ways to Fine Tune Your Perspective on Career and Life (Wiley; Paperback and e-book; October 2011; $29.95; 978-1-118-06782-6) invites business leaders and professionals to not only reassess the various spaces and goals of their lives but to rethink their understanding of career/life balance altogether.
Ahrens, a graphic design professional and creative director, takes a commonly known design industry term, kerning, which is the fine-tuning or adjustment of space between letterforms (type), and applies this concept to both the life and career of business professionals. Ahrens explains that great design comes not in the lightning strike of a brilliant idea, but in the painstaking process of refinement. And so it is in life that the achievement of excellence comes not in broad strokes but in deliberate and incremental change.
"In our business careers, we tend to think sweeping or wholesale changes need to be made to enable us to more deeply appreciate our lives or our jobs," says Ahrens. "Yet it's often the fine adjustments between the smaller details of our lives that we neglect or do not revisit often enough that tend to make the headlines of our lives seem uncomfortable, not as harmonious as they could be, or just hard to read. This perspective applies to individuals in all careers, without question."
Using insights and observations from both the creative and professional world, Life Kerning guides readers in determining what they're passionate about, and then how to keep those passions in the forefront of their lives and careers. The book explores strategies to apply to one's life and career that will allow readers to:

Determine what they are passionate about, and how to keep those passions in the forefront of one's life and career
Reach out to others strategically and trust the collaboration process
Create space in life and add enjoyment to day-to-day existence
Develop critical decision-making skills
Establish an inspiring and motivating workplace environment
Learn how and when to ask for more
Embrace your curiosity, and become a catalyst for positive change
How to cultivate and maintain a group of wise mentors
Live a life that fuels one's work, and work in a way that fuels one's life.
No matter what profession a person is in, it's necessary to continually reevaluate one's personal goals and one's work goals. Life Kerning is filled with bite-sized tidbits, advice, exercises, and easy-to-read, memorable chapter themes to assist readers to engage and retain the information they absorb.
"From time to time, all of us need to assess our personal and work lives to see whether they are feeding each other or fighting each other," adds Ahrens. "This book is about you - the business owner, creative director, worker bee, creative problem solver, or just the person whose life is a little out of whack and needs a nice realignment."
About the Author:
Justin Ahrens (Geneva, IL) is the founder, principal, and creative director of Rule29, one of Chicago's top creative studios, which focuses on making Creative Matter® for their clients in print, spatial, and online environments. His clients range from nonprofit organizations to Fortune 500 corporations, including Allstate Insurance, Life In Abundance, Team Red White and Blue, rock legend Alice Cooper, Invesco PowerShares, and DC Comics, to name a few. He and his work have been recognized by AIGA, the Professional Association of Design, Communication Arts and HOW, the go-to magazines for graphic designers.
For more information about the book, please visit http://lifekerning.com. Follow Justin on Twitter @justinahrens and @rule29.
If you are interested in an interview with Ahrens or if you would like any additional information or a review copy of Life Kerning, please contact Melissa Torra, Publicist – WILEY mtorra@wiley.com – 201-748-6834
For more information about Wiley's books, please visit our Press Room http://www.wiley.com/go/press
Follow us on Twitter @WileyBiz for more information on our Business books and authors
###