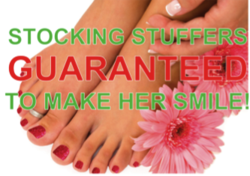 "Groupon has been an awesome partner allowing us to grow faster than with regular Internet marketing. People discovered us all over the US a lot quicker. Groupon helps us get our product in the hands of those who need it."
Cedar Hills, UT (PRWEB) November 08, 2011
Glitter Toes, AKA Rockstar toes, is becoming a huge trend especially during the holidays. With the holiday season about to kick off, Glitties is gearing up to grab a substantial share of festive gift shoppers. One of the Holiday offers Glitties will promote is in cooperation with Groupon. The daily deals leader has created its own "holiday" that will be called Grouponicus. "Celebrating Grouponicus is simple! Followers purchase Groupons as gifts"
Glitties, the do-it-yourself glitter toes solution, has been rocking the boat in the nail salon world. Glitties bypasses high priced nail salons and delivers the salon-quality glitter and rockstar toes direct to the home. Women worldwide have picked up on the craze and are doing their own professional nail art.
Some of the popular benefits of Glitties are:
-No drilling
-No grinding
-Salon quality results
-No nail damage
-Easy on and off
At the salon women pay an average of $35.00 for one glitter toes treatment. Glitties cost less than $2.00 an application. Taking the $35.00 that would have been spent on the one salon visit, women can buy about 60 glitter toes applications that will last them throughout the year. However, the main reason women have found it to be so superior is that it still lasts up to 6 weeks as opposed to regular glitter nail polish that lasts only a few days.
Embracing the new Grouponicus adventure, Glitties will offer an alternative to holiday gifting and enable all holiday shoppers to share their favorite Glitties with loved ones via the web.
Amanda Best of Glitties explains, "Groupon has been an awesome partner allowing us to grow faster than with regular Internet marketing. People discovered us all over the US a lot quicker. Groupon helps us get our product in the hands of those who need it."
In 2010, glitter toes kits were the most popular stocking stuffers among women. That time of year is in sight again, and Glitties is more than ready to launch their new holiday mixes, colors, and prices with the Grouponicus holiday.
For more information, visit glitties.com
###