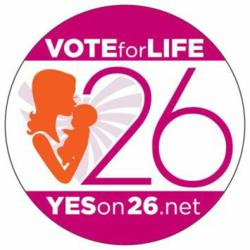 In fact, as it is written to protect every human being, both born and unborn, it will simply validate the equal and inalienable rights of all people and facilitate a just society.
Jackson, MS (PRWEB) November 05, 2011
In a new report titled "Personhood Amendment Will Not Change Legal Safeguards for Physicians Providing Necessary Treatment to Pregnant Patients," the Mississippi Center for Public Policy analyzes the legal effects of enacting the Mississippi Personhood Amendment, Initiative 26. The analysis can be read at: http://www.mspolicy.com.
"The Mississippi Center for Public Policy has received many questions about the legal implications of Ballot Initiative 26 – The Personhood Amendment. One question that stands out is whether the amendment would subject medical professionals to prosecution for performing life-saving procedures, such as treating a woman for cancer or terminating an ectopic pregnancy," writes co-author and Policy Analyst George S. Whitten, Jr., Esq.
"Personhood USA is pleased that an independent organization has taken the time to write this assessment and clear up any confusion," said Personhood USA Legal Analyst Gualberto Garcia Jones, J.D.
As to the claim that Amendment 26 will prohibit life-saving medical care, it reads: "Mississippi law permits abortion in order to save the life of the mother. Our statutes already exempt physicians from being prosecuted for terminating an ectopic pregnancy. Passage of the Personhood Amendment would not change these statutes."
Whitten writes: "Mississippi law protects medical professionals from criminal liability for the accidental homicide of an unborn person. Under the Personhood Amendment, there will continue to be no criminal liability for medical professionals who prescribe a medication fatal to an unborn baby to treat a female patient whose pregnancy was unknown and was not reasonably discoverable."
Answering questions regarding in vitro fertilization, he continues: "IVF assists in reproducing a human life. By contrast, abortion necessarily involves killing a human life. IVF procedures can be performed without destroying human embryos, and therefore would still be permissible under Initiative 26. As is currently being done in many cases, any excess embryos not implanted in the womb could be frozen and implanted later or adopted out to other parents."
"Before birth, we are persons, not property," continued Garcia Jones. "Amendment 26 simply ends the destruction by recognizing our right to live at this age."
Co-author and Vice President for Policy Jameson Taylor, Ph.D. concludes: "[I]f an unborn child's death is accidental or necessary to save his mother's life, there is no justifiable legal or ethical ground for prosecuting a physician who terminates an ectopic pregnancy or who prescribes medication injurious to an unborn child – either under current law, or under a state constitution that recognizes the basic fact that life begins at fertilization."
"Despite all of the media attention focusing on unsubstantiated concerns, this third party analysis confirms what supporters of Amendment 26 have been saying all along—the rights of the preborn, as affirmed by the Mississippi Personhood Amendment, will not take precedence over those of the mother," stated Garcia Jones, J.D. "In fact, as it is written to protect every human being, both born and unborn, it will simply validate the equal and inalienable rights of all people and facilitate a just society."
###