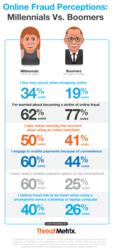 San Jose, CA (PRWEB) November 09, 2011
ThreatMetrix™, the fastest growing provider of cloud-based fraud prevention solutions that do not require personally identifiable information (PII), today announced the release of a research supplement that examined Millennial versus Boomer perceptions of online fraud. The supplement findings, pulled from the "Mobile Payments and Online Shopping Survey" conducted by ThreatMetrix and The Ponemon Institute, specifically analyzed a bifurcated survey sample based on two discernible age groups: Millennials (defined as age 18 to 25) and Boomers (55 or older). This study found 77% of Boomers and 62% of Millennials said they are concerned about becoming a victim of online fraud.
While Millennials report being less concerned about online fraud than Boomers, half of those between the age of 18 and 25 say the security of an online website is a factor in determining whether they use that particular merchant.
"It's interesting to note that while the younger generation is less concerned about online fraud in general, when they do question the fraud prevention measures of an online merchant, they say it adversely influences their experience with that particular brand," said Bert Rankin, vice president of marketing, ThreatMetrix. "It's a big concern if online retailers are losing out on potential sales simply because consumers can't trust the security of the transactions on the website."
Rankin further explained that mobile payments and m-commerce presents an entirely separate set of issues than online shopping, primarily because it is a relatively new channel in which consumers have yet to fully engage.
However, despite only one in four Boomers indicating they have used their smartphone or tablet to make a mobile payment, 60% of Millennials cited they have done so. Of those who have used a mobile payment, Millennials were more likely than Boomers to do so because of convenience. In contrast, the majority of Boomers cited their belief in increased security as the No. 1 reason for conducting mobile payments. Twenty-six percent of Boomers perceive fraud risk to actually be lower when using a smartphone. This, compared to 40% of Millennials.
"Mobile offering better fraud protection is a common misconception that fraudsters use to their advantage," said Rankin. "Not only are merchants still trying to understand the mobile channel, but the majority of consumers don't even download virus protection on their smartphones. And with more consumers using mobile devices to purchase goods, leverage social networks and conduct banking transactions, fraud is of growing concern in this channel."
Download a complimentary copy of the report, "Mobile Payments and Online Shopping Survey, Supplement: Baby Boomers vs. Millennials," or view a visual representation of the data, "Online Fraud Perceptions: Millennials vs. Boomers."
About Ponemon Institute
The Ponemon Institute© is dedicated to advancing responsible information and privacy management practices in business and government. To achieve this objective, the Institute conducts independent research, educates leaders from the private and public sectors and verifies the privacy and data protection practices of organizations in a variety of industries. For more information, visit http://www.ponemon.org.
About ThreatMetrix
ThreatMetrix helps companies stop web fraud and accelerate e-commerce in real-time so they can significantly reduce online fraud, acquire more customers faster, reduce costs, and increase customer satisfaction. The ThreatMetrix Cloud-Based Fraud Prevention Platform, incorporating ThreatMetrix SmartID™ cookieless device identification, provides online businesses with the ability to protect themselves and their customers by verifying new accounts, authorizing payments and transactions and authenticaticating user logins in real-time. Online businesses can deploy the ThreatMetrix Cloud-based Fraud Prevention Platform , which does not rely on personally identifiable information (PII), for traditional online activity via a personal computer as well as for mobile and tablet devices. The company serves a rapidly growing customer base around the world across a variety of industries including social networks (dating, gaming), financial services, e-commerce, affiliate marketing and payments. For more information, visit http://www.threatmetrix.com or call 408-200-5755.
© 2011 ThreatMetrix. All rights reserved. ThreatMetrix, the ThreatMetrix Cloud-Based Fraud Prevention Platform, ThreatMetrix SmartID, ThreatMetrix ExactID, and the ThreatMetrix logo are trademarks or registered trademarks of ThreatMetrix in the United States and other countries. All other brand, service or product names are trademarks or registered trademarks of their respective companies or owners.
###