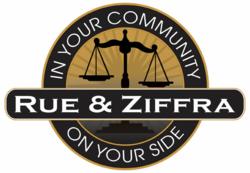 You can't enjoy the Holidays if you are hungry." said Attorney David Sweat.
Port Orange, Florida (PRWEB) November 06, 2011
The Port Orange-based law firm of Rue & Ziffra is starting early to spread the word about the "Volusia County Grub Ride," a Dec. 3rd charity motorcycle run that will collect holiday food for the Children's Home Society and Second Harvest Food Bank of Central Florida.
Riders of motorcycles, trikes and side cars will compete in three categories after bringing in as much donated food as possible to the drop-off point at the Rue & Ziffra parking lot at 640 Dunlawton Ave., Port Orange, according to David Sweat√, partner of the longtime personal-injury law firm.
"Along with our fellow sponsors – Thunder Roads Magazine and First Turn Steakhouse – we're encouraging bikers to sign up early to participate and ride with Santa to help those in need," Sweat said. The cost is $10 per person or a donation of non-perishable food.
In addition to the three $100 prizes that will be awarded for the most pounds of food collected, the event also will feature raffles for a two-day / three-night getaway at a four-star resort in Cocoa Beach, and a variety of gift baskets donated by local businesses, as well as live bands, food and beverages, and giveaways, he said.
Registration – which starts at the Rue & Ziffra law office parking lot – will begin at 10 a.m. with kickstands up at 10:45 a.m. The run will take riders on a scenic tour through Volusia County before ending at the First Turn Restaurant at 5236 S. Ridgewood Ave. in Port Orange (32127).
Sweat said food and cash donations from non-riders also are welcomed.
"We'd like to help as many families as we can," he said. "You can't enjoy the holidays if you're hungry."
For more information or to register, call 386-788-7700 or go to http://www.rueziffra.com/volusia-county-grub-run.
###