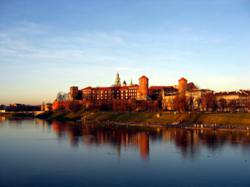 Poland is full of treasures. It offers culture, history and architecture around every corner.
Atlanta, Georgia (PRWEB) November 07, 2011
Krakow, Poland's 1,000-year-old cultural capital and one of UNESCO's World Heritage sites, continues to draw visitors from all over the world. This stunningly beautiful city, one of the few Polish cities not destroyed during World War II, easily takes visitors from the 13th century to the present – and back again.
Krakow's growing popularity as a tourist destination has prompted Austrian Airlines Vacation Center to create a number of vacation packages that feature the historic city by itself or in combination with either Warsaw (Poland) or Vienna (Austria). This winter, the Krakow City Steal starts at $999 per person double occupancy from New York or Newark and includes roundtrip economy class air transportation, three nights in Hotel PTTK Wyspianski (superior tourist class) in the heart of Krakow, daily buffet breakfast, hotel service charges and hotel taxes.
Off-season travelers can also combine three nights in Krakow with three nights in Warsaw@ $1,289 per person in three-star hotels, including first class rail transportation from Krakow to Warsaw. Finally, travelers who prefer to visit two cities in two different countries may want to check out the six-night Krakow-Vienna combination, starting at $1,219 per person. These packages are all valid for travel between now and December 14, 2011 and again from January 8–March 28, 2012, any day of the week, subject to availability. Weekend surcharges apply. Single supplements, upgrades, additional combinations and extensions are available upon request.
"Poland is full of treasures," notes Bram Majtlis, president of Austrian Airlines Vacation Center. "Personally, I go crazy over Krakow, home of my favorite composers Chopin and Paderewski. It offers culture, history and architecture around every corner."
Further details may be found on austrianair-vacations.com. For additional information or to make reservations, contact Austrian Airlines Vacation Center at (800) 790-4682, or info(at)austrianair-vacations(dot)com.
Fine Print:
All packages need to be booked at least 14 days in advance. Payment in full is required within 24 hours of confirmation. Once confirmed, the packages are non-refundable, non-transferable, and cannot be changed. Packages will be booked in economy class and are subject to schedule and space availability. Your minimum stay is 3 nights or one Saturday overnight, and your maximum stay in Europe is 30 days. The Austrian Airlines Vacation Center package prices include fuel surcharges but do not include US Customs / INS / Aphis fees / International Transportation Tax / Passenger Facility Charges / Civil Aviation Security Fee / domestic and foreign Security and Airport Charges of approximately USD $185 - $260 per passenger, depending on the itinerary. Additional taxes and fees may be collected by foreign governments. All taxes / fees / surcharges are subject to change and exchange rate fluctuations and may vary on the day of booking.
###