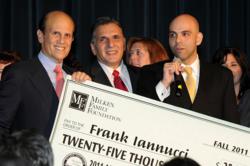 Nothing assures the success of a nation more than education; and nothing assures the quality of education more than dedicated classroom teachers instilling a love of learning and sense of wonder in their students
West Orange, NJ (PRWEB) November 04, 2011
"Nothing assures the success of a nation more than education; and nothing assures the quality of education more than dedicated classroom teachers instilling a love of learning and sense of wonder in their students," said Mike Milken, on the power of outstanding educators.
This year marks MFF's 25th anniversary recognizing and rewarding America's top teachers with what Teacher Magazine deemed "the Oscars of Teaching." The Awards program was created to recognize the importance of outstanding educators and encourage talented young people to enter the teaching profession. Unlike most teaching awards, the Milken Educator Awards have no formal nomination or application process. Each year exceptional teachers, principals and specialists—recommended without their knowledge by a blue-ribbon panel appointed by each state's department of education—are surprised with the news of their awards.
"Our public education system is at the heart of America's promise and is essential in safeguarding the American dream for future generations," said Lowell Milken, Milken Family Foundation chairman and co-founder. "With research confirming that an effective teacher is the single most important school-related factor in raising student achievement, it is clear to see the critical role that outstanding teachers play in shaping our country. We created the Milken Educator Awards to proclaim in a very public way that greatness in education must be recognized and rewarded. As the program's motto extols, 'the future belongs to the educated.' Frank Iannucci is an education game-changer who empowers students and teachers to exceed their own expectations of what is possible. He is an inspiration and example for communities, policymakers, and students who may be inspired to enter the profession, and for all of our nation's K-12 educators."
There's never a dull day in Frank Iannucci Jr.'s math class. With his gung-ho attitude and imagination, Iannucci makes what can be a dry subject into something engaging and even fun for students. A model math teacher, he works with 100 Advancement Via Individual Determination (AVID) students to accelerate student learning and propel students to envision college in their future. One of his AVID students was selected to speak at a national conference in Florida, where she attributed her success to Iannucci. He also formed the National Math Honor Society at West Orange, now 100 members strong. Following his motto, "Learn to know and not to test," students participate in math hide-and-seek, crime case studies and algebra blogs. Iannucci utilizes innovative tools such as podcasts, SMART Boards, Webquests and graphing calculators, and regularly tutors students—even on Sundays. His pupils consistently score high on exams, with 99 percent passing his class. Ninety-six percent go to college. An advocate for the teaching profession, Iannucci chairs the Future Educators of America club and co-chairs the Junior State of America club and the Middle States Planning Committee. He also co-chairs the math department and the math team, whose students engage in competitions to win scholarships. Iannucci is the go-to person for school administration and wrote the school's curricula for algebra, Java and AP computer science. In addition to his instructional duties, Iannucci coordinates parent meetings for AVID students and attends extracurricular functions.
The Awards story doesn't end with the surprise notification. New recipients are invited to join the Milken Educator Network, a group of distinguished educators whose expertise serves as a valuable resource to fellow educators, legislators, school boards and others shaping the future of education.
Since first presented to a dozen California teachers, the Milken Educator Awards program has grown to become the nation's preeminent teacher recognition program having honored more than 2,500 teachers, principals and specialists with over $63 million in individual, unrestricted $25,000 awards. A total of $137 million has been devoted to the overall program, which includes powerful professional development opportunities throughout the recipients' careers in education. The exponential impact of the more than 2,500 outstanding teachers has helped to reform American K-12 education. The Milken Awards alternates yearly between elementary and secondary educators. Each participating state department of education appoints an independent blue ribbon committee to review candidates that are sourced through a confidential selection process and recommend candidates to the Foundation.
Award Criteria:
Candidates for the Milken Educator Awards are selected on the basis of the following criteria:

Exceptional educational talent as evidenced by effective instructional practices and student learning results in the classroom and school;
Exemplary educational accomplishments beyond the classroom that provide models of excellence for the profession;
Individuals whose contributions to education are largely unheralded yet worthy of the spotlight;
Early- to mid-career educators who offer strong long-range potential for professional and policy leadership; and
Engaging and inspiring presence that motivates and impacts students, colleagues and the community.
For more information about the Milken Educator Awards, visit http://www.mff.org or call the Foundation at (310) 570-4775.
You can follow the Foundation at http://www.twitter.com/milken, http://www.youtube.com/milkenaward and http://www.facebook.com/milkeneducatorawards.
Take a peek at the surprise of a lifetime that awaits up to 40 of America's best educators: http://www.youtube.com/watch?v=GCmGOvmNtV8.
An education reformer for three decades, Lowell Milken created the Milken Educator Awards to recognize exemplary teachers and established TAP™: The System for Teacher and Student Advancement to generate more talented teachers, http://www.tapsystem.org. Lowell Milken recently provided the founding gift for the Lowell Milken Institute for Business Law and Policy at UCLA School of Law. For more information about Lowell visit http://www.lowellmilken.com.
###