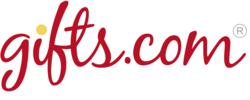 (PRWEB) November 07, 2011
As the holiday shopping season is almost upon us, Gifts.com, the premier gift recommendation site, just delivered the perfect present for consumers -- a new and improved Personality Profiler, making finding great gift ideas even faster, more personalized and fun. The profiler is an entertaining and interactive tool that identifies the tastes, interests and qualities of the gift recipient, and instantly recommends a selection of customized, diverse gift options that range from popular and trendy to unique and unexpected.
With the new Profiler, shoppers answer a few short and entertaining multiple-choice questions about their recipient to create a unique personality profile. The advanced algorithm offers thousands of potential profile results made up of a combination of up to 3 distinct personalities such as "Fitness & Health Nut," "Creative Thinker," and "Guy's Guy." Once the gift recipient's personality is identified, the Profiler delivers an extraordinarily unique and personalized set of gifts. It pulls from the thousands of ideas hand-selected by the Gifts.com Gift Gurus; a team of editors with over 40 years of combined experience in retail, buying, marketing, trend forecasting and blogging. Gift givers can click on any of the gift results and will be directed to an ecommerce site for quick, convenient purchase.
"We are excited to introduce the new Personality Profiler quiz and to further our goal of helping
people across the US see how fun and simple giving the perfect gift can be," said Graham Stanton, President of Gifts.com. "Users of the updated Gifts.com Personality Profiler are three times more likely to find and purchase a great present, which is truly a gift this holiday season, and throughout the year".
Users can try the new Personality Profiler on themselves, friends, family or their favorite celebrity at http://www.gifts.com/finder, and they can share their profiles via Twitter and Facebook.
Gifts.com
Gifts.com is the # 1 gift recommendation site, receives over 5million unique visitors per month, offers consumers hand-picked gift ideas and personalized shopping services that enable them to become better, more organized gift-givers. Gifts.com combines editorial sourcing with interactive tools including their personality-based gift finder to deliver the most relevant and unbiased gift options available; ranging from popular and trendy to unique and unexpected. For more information, visit http://www.gifts.com. Gifts.com was founded in 2005 and is a wholly owned subsidiary of Liberty Media Corporation.
Contact:
Brooke Hudis, DKC
Brooke_Hudis(at)dkcnews(dot)com /212-981-5249
Amy Aubin, DKC
Amy_Aubin(at)dkcnews(dot)com /212-981-519
Lauren Ryback, DKC
Lauren_Ryback(at)dkcnews(dot)com / 212-981-5205
# # #