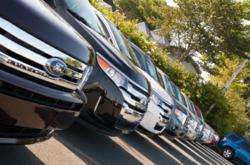 Grafton, WV (PRWEB) November 07, 2011
Toothman Ford of Grafton, WV is proud to announce the 2012 Ford arrivals are available with optional Synch with MyFord systems for any and all available new Ford models excluding cargo vans. This great feature works in conjunction with Smart Phones to give you a safer driving experience while interacting with today's modern features available on most new phones. It offers hands-free calling and audible text messaging along with 911 assistance as well as driver assisted turn-by-turn directions, traffic alerts, business searches, and 411. It's also got entertainment options available such as voice-activated music, internet connectivity, and news, sports, and weather, and the Toothman Ford dealership couldn't be more excited about being involved in this latest safety trend. Besides selling high-quality vehicles with the legendary Ford name instilling confidence, customer satisfaction and safety is No. 1 at Toothman Ford. When looking for a new Ford in Grafton the sales team there wants car shoppers of new and used vehicles to look no farther than Toothman Ford for all automotive sales, parts, and service needs.
Along with the Ford name for quality and durability comes the stellar reputation of the Toothman Ford dealership, known for great service, happy customers, and unsurpassed attention to detail by their knowledgeable and friendly sales staff who can put almost any individual looking for a new or used car or truck into a great vehicle. The dealership carries an impressive inventory of used Chevrolet vehicles such as used Chevrolets in Morgantown and used Chevrolets in Fairmont are available at Toothman Ford as well. There's also used Dodge in Morgantown and used Dodge in Grafton to consider. The selection of Dodges to choose from is vast as well. Access to inventory online is available from the comfort and privacy of a home or office computer with a state-of-the-art website that's offered for customer interaction that's constantly being updated with new stock. This is an all-inclusive, one-stop-shop dealership with a lot to offer. It's all just a phone call, mouse click, or test drive away. All in all, between the quality products offered and the user-friendly website along with the first-rate dealership, Toothman Ford is the place to go.
There are other features of this full-service dealership worth noting like the availability of on-site repairs in the service department with high quality new OEM parts in stock for most any make or model to further enhance a convenient one-stop-shopping experience. Consumers can be confident that all inspections and repairs are being made by highly trained, certified technicians that care about the quality of their work and the safety of its customers. Even customers who have not purchased a vehicle from the Toothman Ford Dealership are encouraged to bring their vehicle in for servicing, estimates, and repairs. Consumers can also make appointments online for their vehicle's regularly scheduled service and are able to search for and order parts online through easy access parts forms. Customer satisfaction is paramount and this leads to customer loyalty, something that Toothman Ford values and wants to keep. The friendly and knowledgeable sales staff and support team are there to help in any way possible to ensure that every experience a customer has at this dealership is a positive experience and continually strive for excellence. Toothman Ford is an independent, family-owned business operating for nearly 50 years and is an accredited member of the West Virginia Better Business Bureau with a long history of charitable work in the community giving back to others.
###