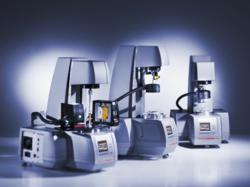 (PRWEB) November 09, 2011
More versatile than ever, the new MCR series offers one thing first and foremost: An open range of possibilities. This is how Anton Paar defines future-proof rheometry: Whichever new application opens up, MCR rheometer users can rely on the fact that they are always covered – whether in routine quality control or high-end research & development, the speed and precision of the systems' dynamic EC motor and numerous patented features are always readily available for convenient operation and reliable results.
Modular
Rheological requirements are always in flux, much like the flow and deformation behavior of the materials the technology is used to investigate. Building on their intrinsic modular design, the new generation of MCR rheometers is now even further ahead of latest testing applications: The instruments are efficiently and comfortably adapted to meet any testing requirement.
The intuitive application software and patented features like ToolmasterTM, an automatic tool recognition and configuration system, make sure of smooth modular operation: Changing a cone-plate for a concentric-cylinder measuring system is just as easy as integrating a new temperature device or extending the MCR rheometers' testing capabilities with a wide range of application-specific accessories.
Compact
The space-saving MCR rheometers are built for practice, with all components incorporated into one simply installed unit that easily fits on a standard laboratory table. "Compact" use of operators' time is also guaranteed: The patented TruGapTM system for automatic gap control, the T-ReadyTM feature for controlling the actual sample temperature, and of course the speed and precision of the synchronous EC motor itself – these and other characteristics MCR qualities ensure efficient rheological operation.
Rheometer
MCR rheometers deliver cutting-edge performance. The third generation features well-known as well as brand-new and further refined rheological highlights: The air-bearing-supported, synchronous EC motor, the dynamic TruRateTM sample-adaptive motor controller, the patented normal force sensor integrated in the air bearing, the Piezo Axial Actuator, TruStrainTM real-time position control, improved electronics and numerous other features ensure the MCR series' world-renowned rheological peak performance.
For more information on Anton Paar's new series of rheometers, please call (800) 722-7556 to speak with a representative today.
###