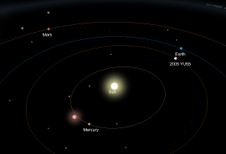 "We don't expect to see the next object flying so close to us until 2028."
Austin, Texas (PRWEB) November 07, 2011
Starmap, the world's first planetarium mobile application for the iPhone, announced today on their website that Spacemap is the only astronomy mobile application currently available that can display the orbit of the nearby passing asteroid 2005YU55 in 3D animation. The asteroid is making headlines this week because of its rare close proximity to Earth. Starmap founder and creator Frederic Descamps caught the asteroid with his iPad using Spacemap, and videoed its course using the mobile application.
"Such are very rare in human time-scale, but quite frequent in geological scales," said Descamps. "We don't expect to see the next object flying so close to us within the next 15 years."
The asteroid should be visible for the next few days, and will be come closer to the Earth than the moon this Tuesday, November 8. You can see the asteroid with Starmap and Starmap HD, but Spacemap is the only application available in the iTunes store that displays its orbit in 3D animation. Descamps' 3D animation video of 2005 YU55's orbit is currently on YouTube.
"Astronomers are permanently surveying these objects," said Descamps. "The problem is that the trajectories of such objects are complex, perturbed by planets and other asteroids, and maybe even by sunlight quite erratic and unknown. So when an object flies close the moon's orbit, it is very carefully monitored by scientists."
Descamps has provided detailed instructions on how to view the asteroid using Starmap or Spacemap, those instructions are here.
Starmap and Spacemap are both currently available in the iTunes store for 50% off the original price. For more information, please visit the website at http://www.star-map.fr
About: Founded in 2008 by Frederic Descamps, Starmap is the first handheld interactive planetarium mobile application that lets you view the galaxy with realistic maps and detailed factual information. Descamps is a professional astronomer and has been practicing in the field since his youth. He holds a PhD in electronics/physics engineering, with a thesis in electronics for large particles detector at CERN in Geneva, Switzerland and DESY in Hamburg, Germany. Copyright (C) 2011 Starmap. All Rights Reserved. Apple, the Apple logo, iPhone, iPod and iPad are registered trademarks of Apple Inc. in the U.S. and/or other countries.
###