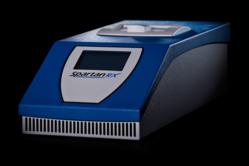 For the first time, nurses were able to perform DNA testing at the patient's bedside.

-Derek So, M.D., University of Ottawa Heart Institute
Ottawa, Ontario (PRWEB) November 09, 2011
Spartan Bioscience today announced data from the RAPID GENE study showing that point-of-care DNA testing successfully identified patients carrying the CYP2C19*2 gene at the time of cardiac catheterization. Cardiologists were then able to prescribe antiplatelet therapy according to the patient's genotype. This personalized medicine approach completely eliminated high on-treatment platelet reactivity (HPR) in CYP2C19*2 carriers.
RAPID GENE is the first randomized prospective clinical trial to demonstrate the utility of point-of-care DNA testing for personalized medicine. Data from the study were presented today in a late-breaking clinical trial session at the 2011 Transcatheter Cardiovascular Therapeutics (TCT) conference in San Francisco.
The RAPID GENE study enrolled 200 patients who were being treated with cardiac stenting for an acute coronary syndrome or stable angina. Patients were randomized to a treatment strategy of rapid point-of-care genotyping and Effient® (prasugrel) for CYP2C19*2 carriers, or to standard therapy with Plavix® (clopidogrel). The Spartan RX CYP2C19 point-of-care DNA test was performed by nurses who received a 30-minute training session, but had no prior laboratory training. The test had a sensitivity of 100% and a specificity of 99.4% compared with DNA sequencing. For CYP2C19*2 carriers, treatment with prasugrel completely eliminated HPR. In contrast, 30.4% of carriers receiving clopidogrel had HPR at 1 week.
"RAPID GENE has demonstrated the feasibility of rapid genotyping and personalized antiplatelet therapy," said Derek So, M.D., F.R.C.P., Interventional Cardiologist at the University of Ottawa Heart Institute (UOHI). "For the first time, nurses were able to perform DNA testing at the patient's bedside." Dr. So served as principal investigator of the RAPID GENE trial, and presented the RAPID GENE data during the late-breaking clinical trial session at TCT.
"These results demonstrate the power of point-of-care DNA testing," said Larry D'Andrea, CEO, Spartan Bioscience. "Spartan's technology is helping fulfill the promise of personalized medicine."
About the Spartan RX CYP2C19
The Spartan RX CYP2C19 is a 1-hour point-of-care genetic test that identifies carriers of the CYP2C19*2 gene. This gene is carried by approximately 30 percent of the world's population.(1) Genetic carriers who receive Plavix following a cardiac stent insertion to open clogged arteries have a 42 percent higher risk of death, stroke, or heart attack in the first year compared to non-carriers.(2) Currently, genetic testing is performed in central labs and it takes up to seven days to get a test result back. A rapid test is needed because most of the complications for CYP2C19 carriers occur in the first 24 to 48 hours.(2,3) In March 2010, the FDA issued a warning for Plavix regarding CYP2C19 poor metabolizers. The Spartan RX CYP2C19 has CE IVD Mark regulatory approval for Europe and other countries recognizing the CE IVD Mark. Spartan Bioscience is working towards FDA 510(k) clearance in the United States. For more information, please visit the website at: http://www.spartanbio.com/products/spartan-rx
About Spartan Bioscience
Spartan Bioscience is the leader in point-of-care DNA testing. The Spartan RX is the first complete sample-to-result, point-of-care DNA testing system in medicine. It is a fully integrated DNA collection, extraction and analysis platform, with an intuitive interface that is easy to operate—no laboratory training required. For the first time, healthcare providers and their patients can get DNA results on demand. For more information, please visit the website at: http://www.spartanbio.com.
The Spartan logo is a registered trademark of Spartan Bioscience Inc.
Plavix is a registered trademark of Bristol-Myers Squibb/Sanofi Pharmaceuticals.
Effient is a registered trademark of Eli Lilly and Company.
1. Damani SB, Topol EJ. (2010). J Am Coll Cardiol. 56:109–11.
2. Mega JL et al. (2009). N Engl J Med. 360:354–62.
3. Wiviott SD et al. (2007). N Engl J Med. 357:2001–2015.
###