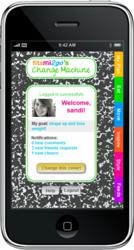 (PRWEB) November 09, 2011
fitsmi.com announces fitsmi2go, a new product for overweight teen girls that will help them manage their weight and health using their cell phone as a tool. fitsmi2go makes it easy for teen girls to set goals, make a custom plan and choose and track powerful changes in their daily lives around food, exercise, style and positive self-esteem. fitsmi2go is free until January 2012.
After a simple and free fitsmi.com registration process, teen girls struggling with their weight can track what they eat, how they move, and even get style, makeup advice and inspiration on any mobile device and on their own. fitsmi2go users can choose to keep their goals and changes private or be part of the fitsmi.com supportive social community where girls share their stories, frustrations, progress, tips and triumphs with other fitsmi friends.
fitsmi.com combines entertainment and information to keep girls ages 13-18 engaged and motivated on a daily basis by treating them first and foremost as teens who want to have fun plus look and feel good.
"It's estimated that there are over 7 million teen girls in the U.S. struggling with their weight and most of them are online. We also know teens increasingly are depending on their cell phones," said Linda Frankenbach, founder and CEO of fitsmi.com. "If we're going to empower teen girls to change their behavior, we must meet them where they are, and that's on their mobile phones."
To help them achieve success, girls can now easily log on and set goals, make a plan or track changes through the "My Plan," "Eat," "Move," "Inspire," and "Style" tabs. "Feeds" allows girls to find out what and how their peers are doing in real time while "The Daily Bite" adds a daily dose of info and fun facts plus an extra push to stay on track whether they're at home or living the life of a teenager on the go.
Developed by Life 180, Inc., fitsmi.com combines social media with fashion, food, exercise and fun to help teen girls make healthy behavioral changes and improve their self-esteem. A unique separate site, fitsmiForMoms.com, the first social network for parents of overweight kids and teens struggling with their weight, provides the expert advice and genuine support parents need to help their children succeed.
Follow fitsmi on Facebook and on twitter@fitsmi.
###