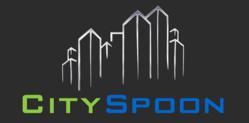 Creating a CitySpoon Vendor profile is fast and free!
Las Vegas, NV (PRWEB) November 04, 2011
CitySpoon begins November by announcing new partnerships with local businesses. Best of Las Vegas' Buzz BBQ, nationally renowned Marinello School of Beauty, and Besco Business Equipment and Supply, are among the new Vendor profiles at CitySpoon.com.
These new Vendor profiles add to CitySpoon's existing partnerships with businesses ranging from restaurants to professional and personal care services. New Vendor profiles will result in hundreds of dollars in savings for users and increased sales and exposure for Vendors.
Creating a CitySpoon Vendor profile is fast and free! In just a few seconds, Vendors can begin marketing their current promotions by generating coupons and uploading their entire Calendar of Events. Vendors can partner with CitySpoon for giveaways, sweepstakes and social media campaigns.
CitySpoon also creates business opportunities to advertise with highly visible ad space at CitySpoon.com and "The Spoon Theory," CitySpoon's official blog. Businesses who refer another business will receive $100 off their Advertising campaign.
CitySpoon shines a spotlight on products and services while driving traffic and increasing sales for local businesses. CitySpoon's dedicated team of professionals ensures all Vendors receive maximum exposure while driving traffic and increasing sales.
About CitySpoon:
CitySpoon, launched in Summer 2011, serves as a local guide for living bigger, better, and smarter by providing in-the-know recommendations, candid user reviews and expert advice for businesses and events in CitySpoon community.
CitySpoon was created as a multi-platform resource for people to save money and help businesses grow. The site offers discounts on national products consumers already know and love while providing local businesses with an affordable avenue to market their current promotions.
CitySpoon members are enthusiastic about life and the driving force behind the company. Together with a private network of local and national businesses, CitySpoon offers fun, affordable experiences. CitySpoon keeps "Spooners" connected to the most popular and unique places and products.
For more information please visit http://cityspoon.com.
Follow CitySpoon on Twitter: @CitySpoon
"Like" CitySpoon on Facebook: facebook.com/cityspoon
###