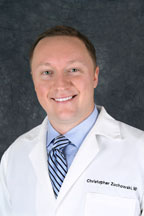 Columbus, OH (PRWEB) November 07, 2011
Central Ohio plastic surgeon Dr. Christopher Zochowski of Bernacki Plastic and Reconstructive Surgery is now affiliated with Dublin Methodist Hospital.
"There is nothing more rewarding than restoring both form and function for a patient and doing this in the most aesthetic manner possible," said Dr. Zochowski. "Plastic surgeons are called upon to solve many difficult problems, from defects surgically created due to cancer to a child with a congenital anomaly. I am enthralled about the opportunity to use my skill set to help these patients in their hour of need."
Dr. Zochowski attended medical school at University of Cincinnati College of Medicine and completed his residency at University Hospitals of Cleveland, the primary affiliate of Case Western Reserve University. He has been active in academic medicine for many years and has been mentored by some of the premier plastic surgeons in the world. He was awarded accolades such as "Resident of the Year" and "Best Core Curriculum Presentation" by his mentors while at Case Western Reserve.
"I pride myself on being an artist," said Dr. Zochowski. "I approach every problem or condition with a cosmetic eye. No matter if the solution is a face lift or a skin graft for a burn, this attention to restoring form, function and beauty is the cornerstone of my methodology."
Dr. Zochowski specializes in the surgical correction of migraine headaches. Dr Zochowski had the opportunity to train with the pioneer of this technique, Dr. Bahman Guyuron, during his six years at Case Western Reserve University. Dr. Zochowski also specializes in cosmetic surgery, breast augmentation, reconstructive surgery, liposuction, peripheral nerve surgery and hand surgery.
The surgeons of Bernacki Plastic and Reconstructive Surgery pride themselves on accessibility, and foster a family mentality in their office. Having more than one physician in the group allows patients to have more flexibility in scheduling appointments and the ability to be seen sooner.
Learn more about Central Ohio plastic surgeon Dr. Christopher Zochowski.
About Dublin Methodist Hospital
Grounded in cutting-edge technology and innovation, Dublin Methodist Hospital is a state-of-the-art care site designed to meet the broad range of patient needs in an extraordinarily healing environment. Dublin Methodist is recognized among the nation's top 5 percent of hospitals by HealthGrades for providing outstanding patient experiences. To learn more about Dublin Methodist Hospital, visit http://www.ohiohealth.com/dublinmethodist.
###