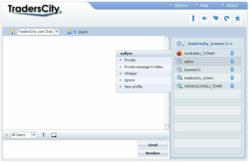 I am mostly amused that even if only one person is inside the group chat section they can still get a response to what they type from the context aware system
Seattle, WA (PRWEB) November 09, 2011
TradersCity.com, a free import and export marketplace is now enabling its members and visitors of importers and exporters to easily participate in group wide business chat opportunities. Chat registration is quick and open to all with very minimal requirements. System design focus was geared toward simplifying the experience and in making available participants' business data that matters the most to international traders.
Context aware supportive data is automatically displayed on the sides of the screen based on the subject of the discussion. The supportive content changes to match any changes in the discussions. If for example the discussion was centered on the adhesive industry, the displayed supporting content will include a list of suppliers, manufacturers, and wholesalers with products closely related to adhesives, sealants, glue, etc.
"While we are expecting that this free discussion avenue will enhance and increase the communication among our international members and visitors, I am mostly amused that even if only one person is inside the group chat section they can still get a response to what they type from the context aware system," said Michal Ann, President of TradersCity.com
TradersCity plans on hosting a number of online group discussions covering import export related topics as well as opening the avenue to others to schedule their own.
More functionality is planned to be rolled out during the coming months with the goal of boosting the amount of supportive context driven business data displayed to chat participants and simplifying communication among geographically, culturally, and linguistically diverse participants.
TradersCity.com offers free membership, unlimited number of trade lead submissions, unlimited uploads of product photos, online business chat, ability to view leads' external search keywords and statistics, country specific geo-targeting leads, an automated multiple display system to enhance trade leads exposure, and competitive analysis reports.
For further information about TradersCity.com B2B Open Chat visit http://www.traderscity.com/board/open-import-export-b2b-chat.php
###